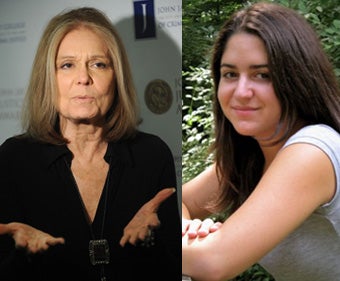 The F Bomb's Julia Zeilinger scored an interview with Gloria Steinem for Huffington Post. And, like most interviews with the oracle of feminism, it ends up illuminating the interviewer a little more than the interviewee.
Because, really, what can you ask Gloria Steinem? She's lived more than half her life in the public eye. So, Zeilinger can indulge in the experience of meeting her idol — something she admits to Nikki Darling came about as a result of some family connections — without too much worry about how to acquit herself.
But she acquits herself nicely, asking Steinem about why it is that so many people don't like the word feminism.

Ms. Steinem says that people don't understand it, and people are afraid of it. But when you know you are one, when you know you are proud enough of your gender to support yourself and fight for yourself and others, you have to stand up and say it, to encourage others.
Since that is pretty close to what Zeilinger herself has said about it, she gets a little more comfortable.
She asks Steinem to speculate about the future after feminism.

"The future is organic," she says. "Suppose we want more equality in the future, which we want, and less violence and more humor and joy and love and poetry and whatnot. So put it in this present." And she's right. "If we reflect what we hope for in the future in what we do everyday," she continues, "Then we don't exactly know what's going to happen, but we can be more sure that it will look like what we're hoping for."
Zeilinger isn't exactly where to go with that, but she plows forward nonetheless, asking Steinem about men.

"When I'm talking to groups that are all men, we talk about how the masculine role limits them," she says. "They often want to talk about how they missed having real fathers, real loving, present fathers, because of the way that they tried to fit the picture of masculinity."
The patriarchy affects men, too!
Steinem also talks about intersectionality, decried by some feminists of her generation as a distraction from achieving goals here.

"I think the advantages are that we are not nationalistic, we feel loyalty to groups of women in other countries that may be greater than we feel to our own government because their lives have more in common with our lives than Bush, to put it mildly," Ms. Steinem points out. "So, that's an advantage, to be able to organize internationally and to support each other internationally."
Who knew how much Moe Tkacik would have in common with Gloria Steinem?
Finally, Zeilinger asks her if she can give some advice for young feminists, and Steinem naturally obliges.

"If I have any advice, it's just to listen to your own unique self and make sure you have support for it," she says. "Because we are communal creatures, if you're with people who think you're smart, you're smart and if they think you're dumb, you're dumb. At least spend as much time as possible with people who make you feel smart, who make you feel good, who support you in that role, and help you become who you already are." She pauses for a moment. "This culture in general is much too much saying that we have to do what's out there rather than what's in here. It needs to be a balance. It isn't that we're more important than anybody else as an individual, but we're not less important either."
Which is good advice for more than just teenage feminists.
Gloria Steinem: The Iconic Feminist Speaks to Our Generation [Huffington Post]
Related: Speaking of Heroes.... An Interview with FBombs Julie Zeilinger [Nikki Darling]
Looking to the Future, Feminism Has to Focus [Washington Post]
The Feminine Mistake [Washington Post]
Earlier: Teen Feminists Drop "F-Bomb"
F-Bombs: Feminist Teen Blog Starts Strong Despite Adult Sniping
FBomb Creator: "Teen Girls DO Believe In Feminist Issues"
Gloria Steinem Will Make You Cry
What You Get When You Pick On "Old School" Feminists' "Bedside Manner"