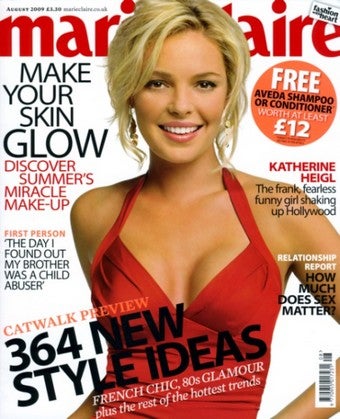 Liz Jones, whose anorexia stunt piece disturbed us last month, writes in the Daily Mail about her career with women's magazines — and why she now finds them "patronising, fake and pointless."
Jones has been both a producer and a consumer of women's magazines — she has a stockpile of Vogue issues dating back to 1975, and in the early 2000s she was the editor of Marie Claire UK. But her early love of ladymags has turned to hate, and the reasons will not surprise you:
• They're dumb. As an example (like we need it) Jones quotes a recent article in British magazine Easy Living: "As an alternative to wine, I'd like to drink beer, but I haven't tried it since I was a teen! Where do I start?" She also mentions a British Vogue feature on "new ways" to carry your handbag (in your mouth? Up your butt?). Jones writes, "We have had The Female Eunuch, The Beauty Myth, the Equal Pay Act, and this is the sort of twaddle that is still being fed to us?" Um, yes.
• They push expensive shit. Jones describes a shoot in Kerala, India for the June issue of British Vogue: "in a region where most people live on less than $1 a day, there is Daria Werbowy in a £3,690 cotton dress by Yohji Yamamoto and a silk/linen ballgown by Ralph Lauren costing £9,500 - the little children used as obscene accessories." While this kind of excess will come as no surprise to ladymag readers, Jones does explain the motivation behind it. She writes,
The reason all the magazines, no matter the demographic of their readers, feature expensive brands is simple: it is not about inspiration or aspiration, it's about survival.

Unless a label is featured editorially, preferably on a cover and worn by a top model or celebrity (or, if not, on a whole page inside), a magazine does not stand a hope in hell of attracting a fraction of that brand's advertising budget.
This means that during the recession, when ad revenues are down, magazines have an even greater need to hawk expensive clothes.
• They're sizeist, ageist, and racist. In her Marie Claire days, Jones learned that she couldn't get designers to dress a cover girl unless the girl was skinny, hyper-famous, young, and white. She writes, "I once tried to put the singer Sade on the cover: beautiful, black, in her 40s. I was told by my publishing director that Sade was far too ancient." When she asked Giorgio Armani to dress another black prospective cover girl, she got the response, "Have you tried getting Natalie Portman?"
Jones doesn't make as much as she might of women's magazines' effect on body image. She mentions in passing that "I remember a photo of model Sandra Dickinson in Vogue eating a watermelon; it prompted me to eat nothing but difficult fruit for a year," but doesn't draw an explicit connection between her own ladymag reading and her much-publicized anorexia. She does say, "I think the glossies' days are numbered. Last month, media buying company Group M predicted dozens of magazines were under a 'lethal threat'." Are women's magazines just another casualty of the recession, or are women actually getting tired of page after page of advertorial content that makes "us feel dissatisfied with ourselves and what we own?" And if women really are finally sick of this shit, what will they read instead? Jones says ladymags "are being usurped by sharp, super-critical online sites and blogs that are not afraid to stand up to be counted." Thanks for the mention, Liz! Now, back to usurping.
Patronising, Fake, And Pointless — Why I've Given Up On The Glossy [Daily Mail]