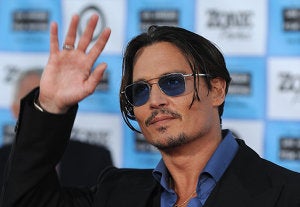 With this level of star power, you knew the L.A. premiere of Public Enemies was one to watch. And thanks to Johnny, Marion, Christian, Rosario and all their impossibly chic friends? It was!
Death, Taxes, Cotilllard: Marion Cotillard has that kind of chic that actually brings one pleasure to observe it - she pulls everything off with such confidence, even things I normally in themselves could take or leave.



Off-Subject: Does anyone wear red lipstick better than Rosario Dawson? Love the dress, not my fave on her, not that anyone asked.



Sullen with envy over Carey Mulligan's perfect LBD, darling pixie.



Do We Look Like We're About to Go Into a Rant? Christian Bale and Sibi Blazic play it conservative; can't really blame 'em. I kid! She looks very elegant.



Love - love! -Branka Katic's power shoulders. Betcha she's wearing Opium!



Kind of Woman: You know what? Leelee Sobieski can actually pull off Belladonna-era Stevie.



Ascot Gavotte: If VH1 did a remake of My Fair Lady, the iconic Cecil Beaton Ascot dress would probably look exactly like Catt Sadler's. Except they'd be at some kind of secret high-stakes casino, of the kind that only seems to exist on Gossip Girl.



Tiers For Fears: We've seen this before - not that there's anything wrong with that, indeed I like seeing stars wear the same gown like normal people - and know that it takes height like Sabrina Morris' to avoid the wedding cake effect.



What Say You about Amber Heard's square yard of fabric?


Images via Getty