Welcome to the show! Get ready for a night of dramatic speeches, hopefully-decent performances, Gaga costume changes, and good times with your fellow commenters.
11:28: And there you have it, crew! Thanks for hanging out with me tonight! We'll have more on the show, fashions, gossip, and all, in the morning. Have a nice night!
11:25: And Album of the Year goes to....Taylor Swift.
11:25 Oh, thank goodness, the final award.
11:20: I'm still pretty saddened by the overall lack of Gaga.
11:18 THIS IS THE SHOW THAT DOESN'T END! YES IT GOES ON AND ON MY FRIENDS!
11:14 Either my tv is messed up or the censors are out in full force for this Eminem/Drake/Travis Barker/Lil' Wayne performance.
11:13 You guys? When did Quentin Tarantino turn into Robin Williams?
11:12Quentin Tarantino is just so...Quentin Tarantino sometimes, you know? Dial it back, dude.
G/O Media may get a commission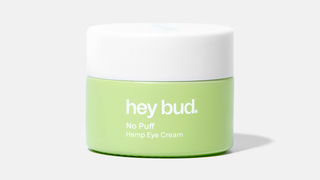 15% off
Hey Bud - No Puff Hemp Eye Cream
11:05:I really loved that singer's gold dress and hair swirl. "Mmm...hair swirl." sounds like something Homer Simpson would say. Can you tell I'm kind of losing it, you guys? I need Gaga to show up and ride a unicorn around while shooting fireworks out of her ears to save this show at this point.
11:01: And now the In Memorium montage. Sorry we had to rush it, you guys, but Academy guy needed 19 hours to talk about how awesome the Grammy Museum is earlier tonight.
10:59 And now Roberta Flack has joined Maxwell for a duet.
10:57 The audience has no idea how to move to this song. It's hilariously awkward. Maxwell, however, is great.
10:56And now it's time for Maxwell. The differences between this set and the Black Eyed Peas set are striking, no? It's like the Grammys took us out to the club and now they want us to come back to their house for a drink or something.
10:55 Ladies Love Cool James!
10:50 There's not enough Gaga in this show, man.
10:48 And the winner for Best Female Pop Performance is...Beyonce, for "Halo."



You guys, my entire childhood toy chest is coming to life tonight. First, it was Lady Gaga as Jem, and now it's Fergie, as She-Ra.


10:42 You guys, I can't hear this band without thinking of John Edwards now, and it's seriously creeping me out.
10:41And now it's time for the Dave Matthews Band. Will someone please do something exciting? Where is Kanye when we need him?!
10:39: Oh, here we go: the lecture on illegal downloads has begun. And now Adam Sandler is here, for some reason.
10:36: Here comes the Academy guy to talk about the Grammy museum, because everyone wants to hear about this right? Good thing we stole those 9 extra seconds from Stephen Colbert so that we could pat ourselves on the back, eh, Grammys?
10:34 How are you guys doing out there? I can't believe they've only given out like 2 awards.
10:25 Wyclef is giving a shout out to Haiti in Creole before introducing a tribute song for Haitian relief performed by Mary J. Blige, David Foster, and Andrea Bocelli.
10:18And the award for Best Rap/Sung Collaboration goes to "Run This Town." Rihanna and Jay-Z are there to accept, but Kanye isn't.
10:15 I feel like people who didn't live through the 80s have kind of ruined 80s nostalgia for everyone, and that includes this song.
10:11: I wish Bon Jovi would just bring back his giant Aqua Net hair. That's due for a revival, right?
10:00: And now Prince and Paris Jackson arrive to accept the Lifetime Achievement award on their father's behalf. Prince is holding it together well. "We will continue to spread his message and help the world. Thank you." Paris: "Daddy was supposed to be here...Daddy was supposed to perform this year....Thank you, we love you Daddy."
9:58The ridiculousness of celebrities singing "What about us!?" while wearing designer gowns and jewels is almost too much too take, right?
9:55Uh, this is apparently being shown in 3-D, which is awesome, if you have 3-D glasses, but for the rest of us, it just looks like our televisions are totally screwed up.
9:53 Lionel Richie is here to introduce the Michael Jackson tribute, with Carrie Underwood, Usher, Jennifer Hudson, Smokey Robinson, and Celine Dion singing "Earth Song" alongside Michael.
9:52Oh, dear.
9:50This is easily the worst performance of the night. Even Stevie can't save it. I fear the Taylor Swift backlash (which I called in December, by the way), is just around the bend.
9:47 And here comes Stevie Nicks to sing Rihannon alongside Taylor Swift, which is great for those of us who love Stevie Nicks, but terrible for Taylor Swift, as her vocals seem really off compared to Stevie's.
9:45Ryan Seacrest is back, unfortunately, to introduce "the phenomenal Taylor Swift." I've said it before, and I'll say it again: I think she's very talented, but the Taylor Swift worship brigade is kind of weirding me out.
9:42STEVIE NICKS! With..Taylor Swift? What song?
9:40 Celine Dion is on the way you guys. Is there any Celine Dion as great as super-over-dramatic awards show Celine Dion?!? I think not.
9:38: The audience is kind of confused and kind of amazed, I think. They aren't used to a country band that doesn't involve a blonde girl or a rap performance by Kid Rock.
9:35 And now tonight's Best New Artist, the Zac Brown Band, featuring Leon Russell. The crowd that was just blaming it on the alcohol 2 seconds ago is now really feeling it for America.
9:34Side note: I'm pretty sure there wasn't one band in that category where the main members were under 35 years old.
9:33And the award for Best Rock Album goes to...Green Day.
9:32Katy Perry's dress is much, much better on stage than it was on the red carpet. She also just fucked up reading the cue cards, though I doubt she really cares.
9:30 It's 9:30 and they've only given out 5 awards. I believe that's grounds for calling shenanigans.
9:26 I kind of wish Andy Samberg had come to the awards with Rihanna in character as Shy Ronnie.
9:25Poor Ke$ha! They made her present with Justin Beiber. It looks like she's been forced to sit at the kid's table.
9:21:It's always a bad idea to show crowd shots of people "dancing" at award shows. It's so, so awkward. And here comes Slash. Ugh. Everything about this performance is so played out.
9:20 Oh, dear.
9:19And now Robert Downey, Jr. comes out, in crooked glasses, to introduce a Jamie Foxx performance. Rihanna is half-ass clapping in the audience, and Jay-Z is giving a really forced, kind of nerdy smile about the entire thing.
9:18 Ringo! And the Grammy for Record of the Year goes to....Kings of Leon!?!?



Beyonce's performance attire, for those who may have missed it.


9:14 That was seriously kind of ballsy and rude, considering Colbert did them a favor and kicked off the hostless show with a solid routine.
9:13 No, really: they just played Stephen Colbert off. Who DOES that?!
9:10 And the award for Best Comedy Album goes to: Stephen Colbert. "It's a Christmas album, so obviously I have to thank Jesus Christ." OMG THEY ARE CUTTING OFF STEPHEN COLBERT! WHAT IS WRONG WITH THIS SHOW!?!?
9:09: It kind of pisses me of that the show can spend 4 hours on dumb presenter banter, but can't spare 30 seconds to let the actual winners give their speeches.
9:08 The dude in Lady Antebellum kind of looks like he's dressed to play Danny Zuko in Grease, right?
9:07: Don't forget, crew: Sadie is constantly updating the front page with red carpet gowns, so go take a look!
9:05: And now Lady Antebellum takes the stage. Have they seriously only given out three awards at this point? Should they just throw the whole awards part out altogether and just be honest about the fact that this is just a big concert?
9:04I don't "get" the Jonas Brothers. Could someone please explain them to me? Do you need to be in the Tiger Beat demo to be a fan?
9:00: I'm a bit wary of "Earth Song" being the centerpiece of the Michael Jackson tribute. That song is really kind of depressing.
9:00: "Welcome to the future!" Autotune and overproduction!
8:59 It is my sincerest hope that the Black Eyed Peas' view of the future will inspire some young genius child out there to build a time machine to take us all wayyyy back into the past.
8:57: This is like Gaga on a budget, isn't it?
8:54 I always hear the lyrics to this song as "I'mma pee." Related: a Black Eyed Peas performance is a great time for a bathroom break, no?
8:49: Seriously, though, how rude was that?
8:48 The Grammys are such a bitchy popularity contest, aren't they? Taylor Swift would NEVER get played off the stage like that.
8:47: And the Best New Artist award goes to The Zac Brown Band. Confession? "Chickenfried" is kind of a jam, you guys. Not even going to lie.



This, boys and girls, is the aftermath of awesomeness.


8:42 Pink strips down to a very skimpy Cirque du Soleil-esque outfit and the acrobatics begin, as they did during her performance at the American Music Awards.
8:40 After a very brief shout out to Leonard Cohen by Seal, Pink takes the stage. Glitter is definitely back in, you guys. I feel like it's only a matter of time before people start taking roll-on jars of it to their faces again.
The gold microphone really makes it right? She's the closest we have to a real-life Jem.


8:32 Pretty sure Beyonce just forgot the words there for a second, but she recovered pretty well.
8:31 For those who can't get to a television: Beyonce is wearing a short black studded leather dress and silver ankle boots. She's also now singing "You Oughta Know" by Alanis Morrissette.
8:29Beyonce has an entire army surrounding her. It's very Michael/Janet, choreography wise, no?
8:28 Simon Baker just gave Beyonce the least enthusiastic intro of all time.
8:26: Taylor Swift's fake-shock expression is getting really tired, isn't it? She won two Grammys already today, though this is the first one she accepted "on national television."
8:25: And, no surprises here: Taylor Swift wins for Best Country Album.
8:24: Poor Kristen Bell. She's been promoting this turd for weeks. They won't even give her a break at the Grammys. She's Veronica Mars, dammit! Let her do what she wants!



Side note: I love Britney, but WTF is she wearing, you guys?


8:19 I am really over the High School Musicalization of the universe, you guys. Sorry.
8:16 Ugh. BRB, watching this.
8:14 Jennifer Lopez is talking about Green Day's American Idiot as if it's their first album. And now we're watching the cast of American Idiot: The Musical or some such performing with Green Day. Watching a Green Day musical is...weird. I feel really, really old all of a sudden.
8:14 Ugh, really shitty planning, Grammy Awards. Beyonce can't accept the award...because she's too busy getting ready to perform. Not really well thought out, eh?
8:12 And Song of the Year goes to: Beyonce, "Single Ladies (Put A Ring On It)"
8:11 Colbert whips out an iPad to read off the nominees for "Song of the Year." BTW: is this award really early this year, or do they always hand it out this soon?
8:10: Colbert: "Justin Timberlake may have brought the sexy back, but Susan Boyle sent it away again. Goodbye, sexy! We're going with really good singing this year."
8:09 Stephen Colbert is now doing a bit with his teenage daughter: "Have a good time honey. Stay away from Katy Perry."
8:07 And the crowd loves it. So far, so good. Stephen Colbert is up to present the first award (or maybe just open the show?). "We are here tonight to celebrate what I believe is our most precious right. The right of celebrities to congratulate each other." The audience gives that joke a half-ass clap.
8:06 The Sir and the Lady are now doing a jazzy version of "Your Song," which, I predict, will be all over the radio tomorrow. Or at least all over the internet. So good!
8:04:Oh shit— I think part of Gaga's costume just fell off. Her glasses?
8:03: Gaga is "turning us all into monsters." And out comes a dual piano, with Gaga on one side and Elton John on the other. There are also a ton of severed arms on top. Typing this out is cracking me up.
8:02 Gaga is wearing huge green shoulder pads, pink triangles around her eyes, and, as expected, no pants. "Poker Face" is kicking things off. There's definitely a backing track, though I can't tell if she's singing or not. I'm 98% sure she is.
8:01: And we kick things off with Gaga doing a spin on "Steam Heat" from The Pajama Game. Welcome to the Fame Factory, crew.
8:00: Here we go! "Tonight, it's ladies night."