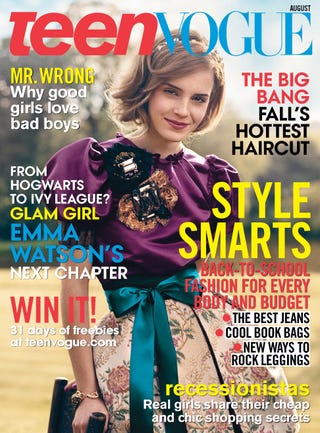 Harry Potter star Emma Watson is not your average 19-year-old. She's friends with Karl Lagerfeld, calls Chanel her "lucky brand," and has modeled for Burberry. And in this issue of Teen Vogue, she wears high-fashion in front of a castle.


Writer Lauren Waterman notes that Watson wears "impossibly high heels, wild patterned leggings, and a poufy mini, with her hair piled precariously atop her head and fastened with brightly colored netting." (Why make it seem so weird? These were your magazine's choices!) But the actress tries to insist that she's down to earth, saying: "I live, really, in jeans from Topshop, blazers from Ralph Lauren or Reiss, and ballet flats."

Yet, this is a magazine, and so Watson is made up, coiffed and dressed in elaborate clothes, for a decidedly atypical 19-year-old look. Still, she longs to do what those her age do: She plans on attending college to study English Literature and art. Watson won't say where — rumor has it Brown or Yale — because she is hounded by paparazzi in the UK. And she wants to live with a roommate in the freshman dorms. She explains:
"I probably sound like a paranoid nut, but I'm doing this because I want to be normal. I really want anonymity. I want to do it properly, like everyone else. As long as I don't walk in and see, like, Harry Potter posters everywhere, I'll be fine."
But let's be honest: When she says she wants to be "normal," what exactly does she mean? Life without decadent photo shoots? Or just without the unwanted attention from fans and paparazzi?


Emma Enchanted [Teen Vogue]
Related: Cover Shoot Photos, Adorable Cover Shoot Video