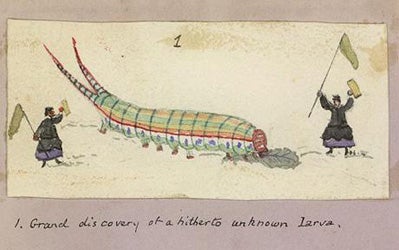 "Madalene and Louisa Pasley used their imagination in the 1850s to create a fantasy world where humans interacted with giant insects." Yes, please!
In 1859, two Devon sisters, aged 12 and 13, began drawing an elaborate series of illustrations which portrayed the girls, in miniature, being pusused by a series of realistically-rendered insects. Educated from home, the girls studied animal life in their garden, and the drawings demonstrate a detailed knowledge of entomology. Now on display for the first time, a spokesman calls the work, according to the Telegraph, "one of the most inventive, accurate and humorous amateur natural history albums ever made."
The two children, the youngest of 11, were daughters Rear Admiral Sir Thomas Sabine Pasley, Admiral Superintendent of Devonport Dockyard in Plymouth. Both appear to have gone on to marry and have families, and did not continue with their artwork or study of nature. But their juvenalia remains of interest to scientists, historians and art-lovers, who regard it as both a marvel of outsider art and a fascinating historical record of a time when natural science had gripped the public imagination.
The notebooks will be on view at Cornwall's 16th century Mount Edgcumbe until September 30. We're booking our tickets at once.
Victorian Sisters Recorded Magical World Of Their Garden [Telegraph]