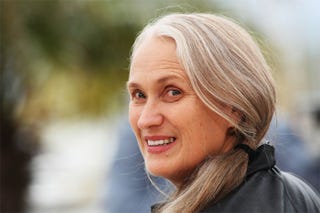 [Cannes, May 15. Image via Getty]
I would love to see more women directors because they represent half of the population and gave birth to the whole world.

Without them the rest are not getting to know the whole story. I think women don't grow up with the kind of criticism that men grow up with. We are more sensitively treated. It is quite harsh when you first experience the world of film-making - you have to have a tough skin.

My suspicion is that women are not used to that. We must put on our coats of armour and get going because we need them [female directors].

I think the studio system is kind of an old boys' system. It's difficult for them to trust women to be capable.

I have been very, very lucky because some of our cinema [in Australia, where the New Zealand-born Campion's career took off in the mid 1980s] is state sponsored so they have to be fair to both men and women. It's part of the expectation. — Jane Campion.
Cannes Winner Jane Campion: Women Not Tough Enough For Films [Times Of London]
Related: Jane Campion Presents Another Resilient Heroine [NY Times]