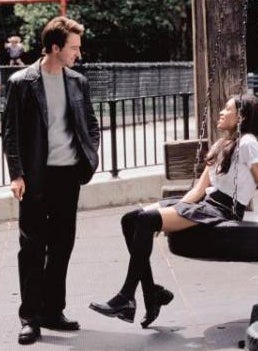 Under normal circumstances I probably would not deign to ask a favor of his Holiness the Pontiff on his trip to our shores, but I was recently called to action by the news of the slow extinction of a venerable Catholic tradition that I believe to be a matter of universal concern. I know you to be a man of tradition, Pope Benedict XVI, so perhaps you can take some sort of action to preserve the long-observed ritual "the rolling up of the kilt." (It is like the "laying on of the hands" of sluts.) The rolling up of the Catholic school uniform kilt is perhaps my favorite of all Roman Catholic rituals, and to anyone who does not understand the comfort and salvation from my bitterness etc. that my continued association with the Catholic Church affords: I invite you to view this great faith through its lens.
See, the Vatican purposely dictates from on high that all Catholic school uniform suppliers manufacture their pleated skirts at a preposterously low hemline. (One could make an attempt to alter the hemline, but one's mother would generally invite one to go fuck herself, those pleats are permanent press anyway.) So one is a left with a choice; not whether to roll up the waist, but how many times.
This serves as a constant reminder to all female members of the student population, no matter how modest, that they are all sinners, living life in constant risk of being given a detention whereby Sister Elizabeth could potentially waste the entire afternoon forcing them to copy the biography of St. Francis De Sales — perhaps the least interesting St. Francis, not that one would be absorbing information anyway — because one would be preoccupied plotting the coy request for a ride from whatever Primus listening potsmoking dude who got busted for wearing Vans one happens to be sitting next to.
The prospect of punishment for the rolling up of the kilt also keeps one constantly attuned to the intentions of the potential enforcers of said punishments. The retired Colonel who wearily barks "KILTS DOWN" when one passes — he is waiting to die. The chemistry teacher who insists one kneel on the floor every period so he can personally inspect the length of one's kilt — a pervert. The one or two truly Christlike figures in the building, the gentle-voiced guitar-playing service project-organizing plainclothes priests: who are they to cast detentions? They're closet homos anyway. And homos, like Jesus, love sluts.