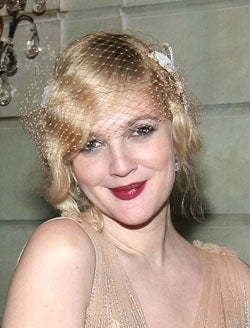 Grey Gardens, which premiered at New York's Ziegfeld Theater, may not have brought out as many skirt headwraps and trouser dresses as we hoped, but the glamour was almost gorgeous enough to overcome the disappointment.


The Good:

Apparently Drew got totally into character as one only can for an HBO movie. Apparently she decided to go with the beautiful, not-living -in-squalor iteration of Little Edie Beale for the premiere - and who can blame her? (I love it when stars do this after playing an 'ugly' character; see: Theron, Charlize; Huffman, Felicity.) Has she ever looked more stunning? Can you top finger waves and bias cuts for glam?



Jessica Lange, too, channels Deco divine, and the effect is both soft and elegant.



Jeanne Tripplehorn plays Jackie O in the film, and I love how she's carried over the American Classic theme into her polka dot choice - an unexpected pick for this kind of soft drape!



Low? Yes - and I'm not sure it would be exactly easy to eat dinner opposite Selita Ebanks' neckline - but the necklace, the demure accessories, balance the overall look like a charm.



Hilary Rhoda does clean, crisp - and almost makes us believe it's Spring...



I love evening suits; why do only older ladies like Frances Hayward appreciate their virtuosity?


The Bad:

When I saw a headshot of Kristen Wiig, I thought, Oh, how pretty; that Grecian drapery may be running its time, but it sure is soft and flattering! And then, the full monty: the leggings, the mini, the Barbie belt. Kristeeeen!