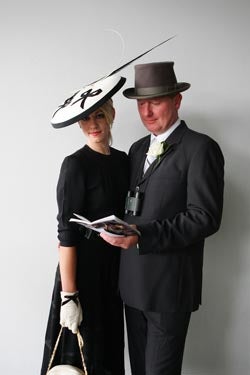 I've never heard of Sydney's David Jones AJC Derby and I don't know who anyone was. But it's hands down my favorite event in the history of the world and am summarily moving to Australia.


The Good:

Laura Gleich's Funny Face special is the epitome of 50s loveliness.



Kate Waterhouse's retro-modern Ascot Gavotte is a perfect meld of shapes.



Stripe + pearls + chapeau + flowing red locks = chic eccentric, as modeled by Donna Stevens.


The Bad:

As Kelly Smythe shows, leather corsets almost never enhance an outfit. And when they do, it's not at the track.



There is one thing I object to about Laura Dundovic's outfit and you can probably guess it's "her shoes."


What Say You?



When it comes to Sandra Sully: one element too many, or eccent-chic?



Bizarrely fab, or fabulously bizarre?


[Images via Getty]