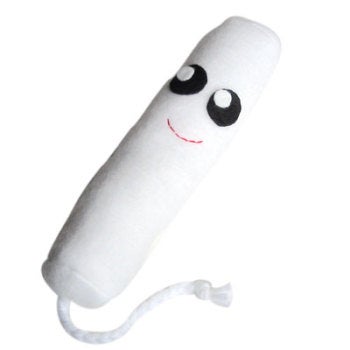 Over on the blog Bitch Ph. D., M. LeBlanc has written a story titled "Coming Out Of The Menstruation Closet." At the heart of this period piece is the the way we feel the need to to hide the fact that we're shedding our uterine lining the way healthy females do. Since she was 11 years old, LeBlanc has been paranoid about that time of the month. "I still put the tampon in my pocket, or tuck it in my waistband if I don't have pockets for the walk from wherever I'm sitting to the bathroom, to make the change," she writes. "I still don't think I would ask a female friend for a tampon within earshot of any dude not my boyfriend. And I'm twenty-five, for god's sake." Surely she's not the only one.


Writes LeBlanc:
Fourteen years after I started bleeding every month, I feel like I've mostly gotten the hang of it. But the other day, I realized the extent to which having 'gotten the hang of it' is only true within the limited context of our culture of concealment. Getting the hang of it means learning how to conceal it as best as possible, so no one ever knows you've got it. Where menstruating is embarrassing, and though almost every woman of child-bearing age menstruates, you still don't want any man not your intimate to know that you are actually bleeding right now.
The crazy thing is, we all do it. Hide tampons, check jeans fearfully for stains, feel a twinge of embarrassment when buying pads from a guy at the drug store. LeBlanc is not alone. "Why do I feel this way?" she asks. "It's utterly stupid. Because somehow my making these men aware of the fact that I am menstruating is going to make them briefly contemplate my vagina and then their heads will explode? Or is that I shouldn't impose my gross bleeding on other people because this is a Private Matter?" Or is it because women are supposed to be dainty, clean, unsoiled, smooth and perfect like dolls? Sometimes I find myself reluctant to admit that Aunt Flo is in town because I suspect she'll get the blame for me being upset or angry — when I have valid reasons to be upset or angry. (Then again, Aunt Flo also makes me weirdly emotional and burst into tears sometimes. Bitch.) Still, even though menstruation is healthy and normal, are you more likely to tell a stranger you have a sinus infection than you are to admit you have your period? Why do we spend so much time hiding when we're on the rag?

Coming Out of the Menstruation Closet [Bitch Ph. D.]