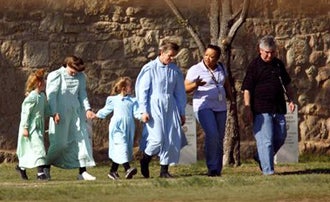 Child custody hearings begin today in Texas for the 416 minors who were taken from the polygamist sect Fundamentalist Church of Latter Day Saints' compound near Eldorado. According to CNN, logistics will be decided upon today, like which cases take precedence, while the actual fates of the children will be determined on Thursday. As previously reported, over 100 mothers accompanied the children from the compound, also known as the Yearning For Zion Ranch, when they were taken by police over a week ago. Texas authorities were responding to a call from a 16-year-old who blew the whistle on YFZ child abuse, though that teen has yet to be located. The mothers and children have been living in a temporary shelter in San Angelo, Texas, and the FLDS moms are none too pleased at the treatment they've been receiving.
Three women claiming to be representing the group wrote a letter to Texas Governor Rick Perry, lamenting their plight. "You would be appalled," the FLDS mothers wrote. "Many of our children have become sick as a result of the conditions they have been placed in. Some have even had to be taken to the hospital. Our innocent children are continually being questioned on things they know nothing about. The physical examinations were horrifying to the children. The exposure to these conditions is traumatizing them."
The mothers have also been stripped of their cell phones, as Texas authorities fear that the custody case will be hampered by outside interference. If the treatment of the FLDS wives and children is anything like former sect member Carolyn Jessop claims it is, then the lack of cell phones is the least of these women's worries. Jessop was married to a man over 30 years her senior when she was 18, and though she had 8 children with her husband (who had five other wives), she lived in constant fear. "Some [women in the sect] had been beaten so badly they had suffered broken bones. Girls, some as young as 12 and 13, had been expected to have sex with much older men."
Mothers From Polygamous Sect Ask Texas For Help [CNN]
Sect Investigation Moving To Courtroom [AP]
Forced To Marry A 50-year-old With Six Wives When Just 18 ... One Woman's Harrowing Tale Of Escaping The Texas Polygamist Sect [Daily Mail]
Earlier: Authorities Take 400 More Kids From Polygamist Sect In Texas
Your Nagging Ancient Mormon Underage Sex Cult Questions, Answered At Last!
Polygamist Sect Raided On Charges Of Abuse Of Girls