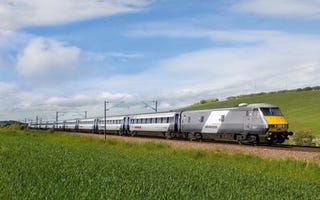 Women railway workers in England are refusing to wear new uniforms because the blouses are too see-through.
Female staff on the National Express East Coast line between London and Edinburgh have sent their new uniforms back to the company and demanded different ones, complaining that a new blouse "left little to the imagination." Said union spokeman Brian Brock, "The blouses are simply too thin and too cheap. This is yet another example of National Express cutting costs at every corner...all the female staff take a pride in their work and this is reflected in their existing uniforms which are smart and professional, all they want is for their new uniforms to be equally smart and professional."
Informed of the fracas, National Express responded, "We have undertaken wearer trials for the past six months and this issue did not arise. We will of course change the fabric of the shirts if there is a problem. We are now liaising with the manufacturer."
Perhaps they didn't try them under natural light - bad shoppers! One can only assume that male staffers' shirts were equally crummy, but perhaps they're more inclined to wear an undershirt? Either way, it's both comforting and demoralizing to realize that there's not an industry in the world where women's workwear isn't challenging.
Women rail workers refuse to wear see-through uniform [Telegraph]