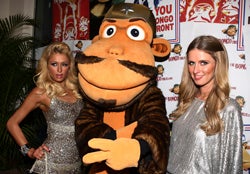 If you wanna make that goodbye to '08 extra easy, just skeddadle on down under with us and the Hilton Sisters to — yes — "The Bongo Virus New Year's Eve Party."












The "Good":


Because tackiness gets a "festive" pass on NYE, we'll give the okay to Stephanie Rice's sequined frock!


The Bad:

Lauryn Eagle and Amy Taylor are obviously really tight — or at least red-carpet-tight - which makes sense, because their Grecian situations are horrid in exactly the same way!



As we known, it's summer in Australia. Which does nothing to explain the prepodnerence of tangerine...or, indeed, much about Jaime Wright's little number.



Had Ruby Rose kept it simple, this look might have been unremarkable. Instead, she opted to steal a necklace from me at three years old.


Mixed Bag:

Nicky's tunic is actually pretty disco-fab. While we can't see her legs, we're thinking Paris? Not so much.


Images via Getty]