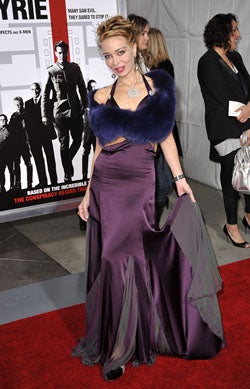 Get ready for some crazy, kids, because the premiere of Tom Cruise's Valkryie in L.A. summoned forth mermaid tails, sacks, and colossal errors of judgment that one does not often see!


The Good:

Scientologists representin'! Jenna Elfman looks amazing in this tunic, which would sadly look like a muumuu on the rest of us.



Carice van Houten's dress is fine, but...why is it so wrinkled? Hasn't she just arrived?


The Bad:

Michelle Stafford: Business on top, mermaid on the bottom!



Holly Palmer's dress looks like in Sleeping Beauty when Flora tries to make the gown for Briar Rose without magic and it ends up just being a pink sack with arm holes. And then Merriwether says, "It looks awful."



Full-time red carpeter and perennial "Bad" Kat Kramer sports a noteworthy pair of shoes!


What Say You?

Bree Turner: bad bizarre or good bizarre?


[Images via Getty]