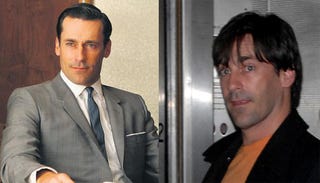 Thank the 'do deities that Jon Hamm knows something is terribly wrong: "It's the bane of my existence. Goofy hair," he tells CNN. And looking at a range of photos, clearly something's amiss:
"It never looks good," Hamm admits. "It's a pain." Well it certainly pains us to see it so lank and limp. Do you overcondition, Jon? Under shampoo? Is it dyed? So many questions.
The bangs! The bangs are not right. Sure, they're sort of reminiscent of someone from a different era. But not the right person. Or era.
Egads. Hamm says he's always worn his hair long, but had to cut it for Mad Men, in which — for the uninitiated — he plays a 1960s ad exec. Apparently the stylists on the show use hairspray and blow dryers for the "hard shell" on Don Draper's head, which Hamm says has come in handy: "I've had a piece of the set fall on my head and my hair didn't move. I had seven stitches in my head and my hair didn't move. That's impressive." Not impressive? These Davy Jones-ian wisps. The GF looks amazing, though!
Weed whacker. That is the only plausible explanation. He cut his hair with a weed whacker.
That sound you just heard was a million ladyboners withering. Libido levels fall down go boom.
Behold: Jon Hamm gives up. Without the talented hairstylists from Mad Men, he has no clue what to do with the testy tresses that top his head.


Unfortunately, Don Draper's hair — and the AMC series — is still in peril: The network still doesn't have a deal with Mad Men creator Matthew Weiner to make more episodes. "We can't do the show without Matthew," Hamm tells Fox 411's Roger Friedman. "Of course, you 'can' do it, but you know you can't."
'Mad Men' Star's Hair Is 'Bane Of My Existence' [CNN]
'Mad Men' On Thin Ice? [Fox 411]
Earlier: Don Draper Steps Out Of Time Machine
Related: The 8 Worst Hairdos A Man Can Have
[Lead image AMC/Splashpic; gallery images via Getty.]