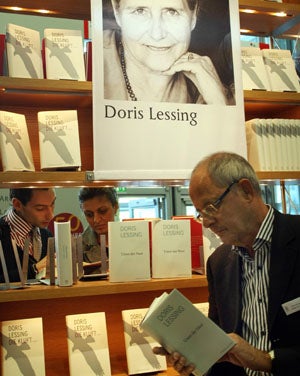 Quick, what's the one book Brits of both genders pretend to have read to get a date in the sack? Long Walk to Freedom, the autobiography of Nelson Mandela. Because imprisonment and apartheid are… sexy!
However, men were much more likely to lie about books they've read in order to impress a date, according to the BBC, 46% of men will say they've read Ulysses when they usually read Maxim, while only 33% of women falsely attest to reading Infinite Jest when in reality they move their lips when reading Cosmo. (The NY Times' Rachel Donadio, who delved into the books/dating connection earlier this year in a much-emailed essay, thinks that literary dealbreakers and romance may be a "gender issue": "Brainy women are probably more sensitive to literary deal breakers than are brainy men. (Rare is the guy who'd throw a pretty girl out of bed for revealing her imperfect taste in books.) After all, women read more, especially when it comes to fiction.")
These figures are based on a study by the National Year of Reading, and that study found the biggest liars of all were teenagers (shocking, we know). 74% of all teens have lied about having read things, but those things weren't great works of literature, they were "social networking pages or song lyrics." Honor Wilson-Fletcher, the director of the National Year of Reading project, isn't upset that people are lying rampantly about their reading experiences. "For all the talk of our superficial obsession with beauty, it looks like underneath it all we know that brains contribute to sex appeal too," Fletcher says. Aw.
Men 'Lie About Books They Have Read To Impress On Dates' [Telegraph]
Many Lie Over Books 'To Impress' [BBC]
Earlier: Which Books Send You Running Out Without A Cuddle?
Related: It's Not You, It's Your Books [NY Times]