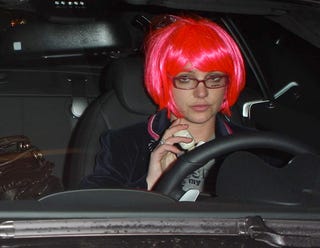 Is it possible that watching Britney Spears shave her head, spill Snapple on herself and accidentally show the world her areola can be helpful to mankind? Yes. This is according to a new blog, Celebrity Psychings, whose founder, John M. Grohol explains:
Celebrities have the ability to reach an audience who ordinarily might not even think about (or recognize the legitimacy of) mental health concerns. While we're not into celebrity worship here, we believe that people can use their popularity for good when they talk about mental health issues out loud and in public. The more people get talking about mental health, the more it reduces the stigmatization and misinformation about these issues.
Tara Parker-Pope of the New York Times agrees that celebrities have the power to bring attention to important issues. For instance: Michael Phelps has won Olympic medals, despite having ADHD as a kid. Carrie Fisher has bipolar disorder, yet is a funny, best-selling author. And career expert/blogger Penelope Trunk is also on board with this idea: "If you don't read about celebrities, you're missing a big learning moment," she writes. Trunk believes you can "use celebrity messes to gauge how you're doing in your own failures."
Has the exposure of stars' lives made them into examples? Made us not into voyeurs, but students? With every DUI bust, do we learn not to drink and drive? Every time we witness a celebrity crack under pressure, do we learn to ask for help? Is it possible that the public's current zest for schadenfreude is a secret, massive therapy session?
Celebrities And Mental Health [NY Times]
Make Better Decisions For Yourself By Watching Decisions Celebrities Make [Penelope Trunk's Brazen Careerist]
Related: Celebrity Psychings [Psych Central]