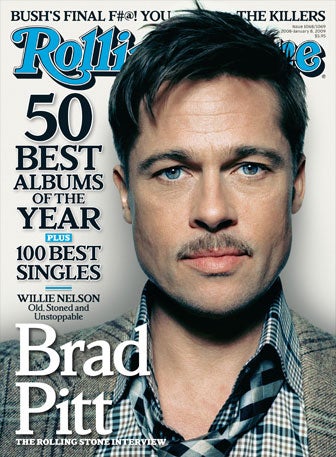 Brad Pitt and his mustache (it's for that Tarantino flick he's filming, Inglourious Basterds) are on the cover of the new Rolling Stone. To conduct the interview, writer Mark Binelli visited the Jolie-Pitt compound in Germany (he writes that it "is surrounded by a wall and has three large houses, its own helicopter-landing pad and, when I visit, at least six guards"). One thing Binelli mentions about Pitt is something you may have noticed in televised interviews: Brad Pitt is restless.

Writes Binelli:

In person, Pitt is warm and funny, but is also, at least while he's being interviewed, an extremely fidgety guy. He paces. He musses his hair. He tears little pieces of dried apricot into smaller pieces before popping them into his mouth. He rubs his knee so intensely it brings to mind Lennie from Of Mice and Men petting a rabbit. All of this might have to do with the fact that, despite his repeatedly proven talents as an actor, Pitt remains, for a large number of people, a creature primarily of tabloid fascination. Did he cheat on his ex-wife with his current partner? Will they have another biological child? What war-ravaged destination might they visit next? Does the mustache make him look hot or porn-y?
As for the interview, Binelli gets Pitt to spill about his work, his life, and his thoughts — and there are some revelations.
On Pitt's crappy movies, like The Devil's Own and Meet Joe Black:

"I got lost in the wilderness of fame a bit. There are all of these opportunities you're supposed to be taking. And I got really discombobulated."
On growing up in a religious community:

"I just found it so stifling, my religion. I know it's very comforting for other people. And it was too much of what you shouldn't be doing instead of what you could be doing. I get enraged when people start telling other people how to live their lives. It drives me mental. This Prop. 8 thing just drives me mental."
On his new film, The Curious Case of Benjamin Button:

"I find Benjamin is about those universal things we all share — that 95 percent that makes us all the same, wherever we are in the world. Our loves, our hopes, but also the loss that we all walk around with and hide very well, and the ultimate notion that we're all expendable. To me, it's a counterstatement to this divisive period we've been in, where we focused on the two, three, four, five percent of ways in which we're different."
On the future:

"I have this fantasy of my older days, painting or sculpting or making things. I have this fantasy of a bike trip to Chile. I have this fantasy of flying into Morocco. But right now, more and more, it's about getting the work done and getting home to family. I have an adventure every morning, getting up."
One has to wonder, is this a man who gets bored easily? Who loves being on the go? Who dreams of never slowing down? Who dreams of never settling down? And with six kids — and possibly two more on the way — is his family "adventure" enough?
Brad Pitt: The Rolling Stone Interview [Rolling Stone]