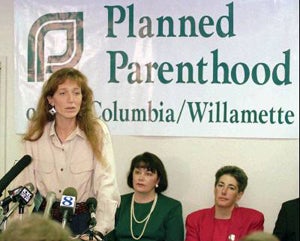 Following last month's election of the resoundingly pro-choice Barack Obama, abortion opponents are trying a new strategy: attacking Planned Parenthood's financing rather than its mission. According to the Wall Street Journal, anti-choice activists want to stop the flow of government dollars to Planned Parenthood and are "arguing that the nonprofit group has plenty of cash and shouldn't be granted scarce public funds at a time of economic crisis."
The Journal reports that Planned Parenthood gets $335 million a year from the government, which is a third of its budget, and it also had a $115 million budget surplus last year. Indiana abortion foe Scott Tibbs tells the Journal,"The money needs to go to local organizations that actually need it and don't have the backing of a multimillion-dollar organization."
As has been noted before, less than 3-5% of what Planned Parenthood does is abortion related, and Planned Parenthood President Cecile Richards says that in times of economic turmoil, people need Planned Parenthood's health care services the most. It's "a lifeline for millions of people," Richards tells the Journal, especially for those who have lost their health insurance along with their jobs.
It's unclear whether the lobbying efforts of groups like the Family Research Council will be successful in getting local governments to cut back on their Planned Parenthood funding; however, in the past few weeks, Atlanta and Sarasota area Planned Parenthoods have seen their local government funding scaled back. Sarasota's funding was cut from their sex-ed program, and former Sarasota county commissioner Paul Mercier says to the Journal, "It had nothing to do with Planned Parenthood's mission…It had everything to do with them not needing the funding."
Abortion Foes Open A New Front [WSJ]
Earlier: Planned Parenthood Indiana Offends The Baby Jesus, Michelle Malkin