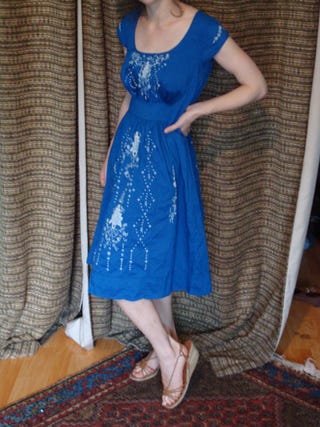 A few months ago, with your help, I successfully met the parents. You'd think that would be the end of such sartorial stresses, but no: on the strength of this, I have been invited to my fiancé's family's annual huge holiday party, where I will meet his sisters, all his parents' friends, various exes, and basically everyone of importance in his life. Obviously the outfit is the least of it but - and it's a big but -when you feel good about that it's a real load off. Here are the deets: it's in L.A., so my NYC winter finery's a bit heavy but it's in some hilly, woodsy area and there will be a fire. When pressed, my fiance said vaguely that the women wear "festive" ensembles of skirts and tops; his dad will be sporting a Christmas sweater. From these unhelpful guidelines I have assembled the following options:
This is probably the closest to "skirt and festive top," but does it feel a little bit dull and mature?



Is this too fancy? Or just - too weird? Note: this can be further enlivened by the addition of a snowflake brooch of my late grandmother's for maximum festivity.



I like the idea of this dress, but is it not holiday enough?



In case you can't tell, this is a silver metallic knit - probably one of the more festive fabrications in my closet - but is it too casual?


Earlier: Solicitations: Help Me Choose A Meet The Parents Outfit