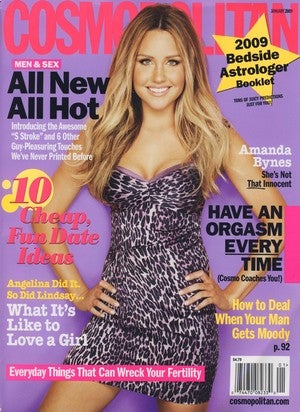 The other day you said you "enjoy finding the inconsistencies in lady mags." Us too! Like this month's "If Guys Edited Cosmo" feature, with headlines that look . . . a lot like Cosmo headlines. Check it out after the jump.
Our favorites include:
"Bad Hair Days: Why He Doesn't Really Need To Hear About Them"
P. 152 reminds you not to complain about your split ends — he'll just notice them more.
"Real-Life Read: 'How Learning To Cook Him Four-Star Meals Turned My Life Around'"
On p. 164, Katie Lee Joel shows you how to "mesmerize him" with a four-star meal.
"Cosmo Quiz: Are You Giving Him Enough Pleasure?"
See p. 76 (and really, pretty much every page of every issue) for how to give him more pleasure.
And there you have it. Opposite Day at Cosmopolitan: just like every other day.

Cosmopolitan [Official Site]