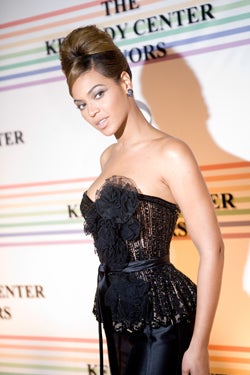 Morning, dearest kids! And welcome to the 2008 Kennedy Center Honors — even if, yes, they were actually last night and actually airing on December 30th. Whatevs! For our purposes, we're in D.C. to see Barbra Streisand, Morgan Freeman, Twyla Tharp and the bulk of The Who honored for general famousness! As befits the occasion, dignity was the byword: Queen Latifah and Joss Stone channeled old-school glamour; Barbra channeled old-school glitz; and Beyonce? Well, judge for yourselves... after the jump!


The Good:


When the queen does bombshell, no one does it better.



Toni Cornell epitomizes elegance, taste and adorableness.



Joss Stone plays it safe and grown up - but hey, it's the Kennedy Center.



Again, Glenn Close may not win any awards for adventurousness here, but for a Dignified Event? Textbook!


The Bad:


Memories, like the corners of my mind...okay, don't even know what Barbra's monarch of glitz ensemble's harking back to.



Jordyn Blum (with Dave Grohl), on the other hand, is clearly evoking the mid-90s, when dressing up without pants or docs under a dress was as dressy as it got.


What Say You?


Beyonce: glam bombshell, or contrived statuette?


Getty" />