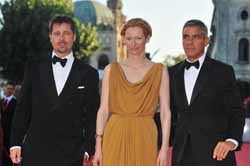 So, the Venice Film Festival kicked off yesterday with the Burn After Reading premiere. And as you might hope, it was gloriously, dizzily Italian: dramatic and glitzy and elegant all at once - well, with a few notable exceptions. (Melted trash bag, I'm looking at you!) The Good, The Bad, The Italian, The Ugly...after the jump.


The Good:
Just enough glitz to make Afef Tronchetti Provera look awesomely Italian, awesomely awesome.
Elsa Martinelli: Just what I'd wear were I an Italian actress of a certain age. A jeweled red caftan?! Fabulous!
Alice Braga: Jane Austen-era bride or contempo vision in white?
Ksenia Rappoport: Jane Austen-era widow or contempo vision in ink?
The Bad:
You know when sometimes in the summer you see a gal in a bikini top under her clothes and you have an unworthy moment of thinking, "Hm, that's not really any sub for a bra,"? Yes. Roberta Rossi.
Claudia Schiffer's been doing a lot of bizarre experimentation lately - the latest being this Scarlett-works-with Jonathan Adler's drapes.
Okay, Valeria Golino almost pulls this off - and really, no shame in failing at an impossible task.
The Ugly:
Isabella Orsini seems to be sporting - and I use the term loosely - PVC.
Yes.
Getty" />