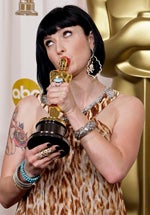 In the world of film, as in life, women often don't get the recognition they deserve. So we were excited to read Variety's Women's Impact Report '08, the entertainment trade publication's 11th annual list of the 50 female "movers and shakers" in entertainment. This year the ladies of The View, Diablo Cody, and Erykah Badu made the list, as well as the lesser known producers and executives behind Gossip Girl, The Colbert Report, and The History Channel. We pored over the pages and pages of the report to give you the best/most interesting bits. Those, of course, after the jump.
• "Actresses Earn Music Cred, Acclaim," the lead article in the report, notes that some Hollywood actresses are crossing over to become moderately successful indie rock musicians. The only women mentioned are Rebecca Pidgeon, Scarlett Johansson, and Zooey Deschanel. They received more critical praise than fellow actor/musicians Russell Crowe and Keanu Reeves, so clearly this was the most important thing to happen to women in entertainment in 2008.
• All the women were asked the same set of questions, including, "If not Hillary, then who?" It's possible they meant, "If Hillary isn't going to be the first female president, who will be?" but almost everyone said, "You know, the nominee? Obama?" interpreting the question to mean, "Since you ladies were all automatically supporting the girl, who's going to get that pretty little vote of yours now?" Charlotte Huggins, a 3-D film producer, wins for best response: "I'm not answering that. ... That is a sexist question."
• The article on Diablo Cody and Ellen Page (both "legends and honorees") points out that "the peculiar gravity of new media holds that all praise is merely prelude to an equal and opposite backlash, and both progressed from sweethearts to punching bags in record time . . ." Cody says "criticism is as useful as praise. I eat it like fuel. I'm the little engine that runs on hate. My productivity spikes when I've got something to prove, and it seems like I always do."
• The article on The View says that, with the recent appearances of Cindy McCain and Michelle Obama, the show has gained some influence as a political forum. Barbara says, "... a lot of women do get their news from it, just as people get their news from Jon Stewart."
• Amy Baer, the new HBO Entertainment president says, "Should we talk about the mock surprise that every male executive had at the surprise success of Sex and the City? ... I believe if you make a good movie, whether it speaks to one quadrant or four quadrants, they go. Iron Man wouldn't have the success it had if women didn't go."
• Alexandra Patsavas oversees the music on Gossip Girl, Mad Men, and Grey's Anatomy and her song choices are known for drawing attention to bands such as Death Cab for Cutie, Phantom Planet, and the Killers. "I feel like I'm getting away with something all the time," Patsavas says: "Our producers are into really good music these days, and we are putting forward some very obscure and nontraditional choices. And I'm so happy about that."
• Alyssa Finley, is the producer of the award winning video game BioShoc. The author notes that the game, about a plane-crash victim who is attacked by mutants "sounds like the kind of survivalist dystopia normally visited by adolescent boys targeted by the male-dominated gaming industry ..." You may wonder what it's like to be a female working in the gaming industry, but somehow this doesn't come up in the article.
• Nancy Dubuc is executive vice president and general manager of the History Channel and has helped make it the second most popular cable network for men (after ESPN) with new shows like Ax Men, Battle 360, and Ice Road Truckers. It would have been interesting to hear her thoughts on why more women don't watch the History Channel, but that's not addressed.
• Alison Silverman is the head writer and executive producer of The Colbert Report. She won an Emmy for her work as writer-producer of The Daily Show. Her responses to the inane questions Variety asked each woman are: Role model: "Michael Palin." Three things I can't do without: "Lungs, pancreas, skin." If not Hillary, then who? "To paraphrase a great man, 'Some see Hillary as she is and say then who? I dream of Hillarys that never were and say who not?' "
• Stephanie Savage is the writer and executive producer of Gossip Girl. She says, "We're making a magazine show every week and setting the trend." "Teens have a sensational narcissism and genuinely believe that their experiences are unique and can't be explained to adults," explains Savage. "But we forgive them for their mistakes and naivete. I love writing about young people."
• Sharon Sheinwold is an agent whose clients include Jack Black, Jason Segel, Jason Schwartzman, Amy Poehler and Jonah Hill. She signed many of them before they were very famous, and she encourages her clients to write their own material (which paid off for Jason Segal when he wrote Forgetting Sarah Marshall). Her answer to "If not Hillary, then who?" is "Amy Poehler."
• Karen Baker Landers is an Academy Award winning sound editor who says being a woman interested in "gunshots and big explosions and car chases" has been an issue in her career. "They think, 'Well, yeah, you can do a romantic comedy,'" she says. "Well, I love a nice romantic comedy, and I love something like Ray, a movie I did that was all about sound that made you feel emotional. But I also can sit in a big effects film, a big fight scene, and go nuts and love it ... You don't have to prove it as a man; if you have a good resume, they're not going to question it. But you do have to prove it as a woman."
Women's Impact Report '08 [Variety]