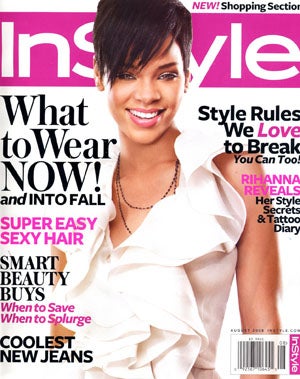 There's just so much advice in this month's InStyle. Things to want! Rules to break! Rules for breaking those rules! After a while the sheer volume of contradicting imperatives begins to seem poetic, yet absurd. InStyle cries out to be made into a Dadaist poem! As you may know, a true Dadaist poem actually requires that you cut out words from the source material and pull them out of a bag at random. But since InStyle reports (twice!) that there is no "it" bag for fall, I wasn't sure which bag to use. And so I have created a found poem instead, using only actual phrases and images from the magazine. See the results — and add your own — after the jump.
Be a free spirit match your necklaces and bracelets mark your calendar and race to a store


Forgo the grand flourish keep the colors up top subdued choose a gown boasting more yardage than anybody else's




Stand up straight moisturize as you cleanse add further funk with contrasting tights




Join the costume party without losing your shirt you don't have to spend a fortune cheap shoes will bring the whole look down




Brush black powder from the lash line to the brow line coil remaining hair into a loose bun fill it with red gum balls!

Think you can do better? Got another magazine or website you want to try the found treatment on? Poetry is what comments were made for! Have at it.