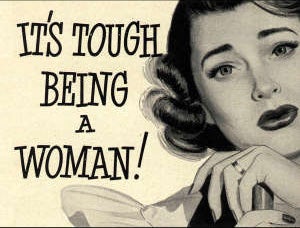 The world is not a fair place, I think we all know that. And in this not-fair world, on the average, American women earn 80 percent of what American men earn. When UK Equality Minister Harriet Harman recently called for employers to disclose wage disparities, plenty of people were willing to say that women choose to make less then men in order to spend more time with their kids or to seek less professional, more personal fulfillments. But even beyond the issue of supposed choice, studies by and large show that women don't negotiate on salary as successfully as men for a variety of reasons, which might also contribute to the wage gap. Wondering how to take that particular bull by the horns? As someone who always got hired to break heads instead of be diplomatic, I have some tips.
By and large, the first thing you have to understand about getting a job or a raise or the salary that you deserve is that no one is going to give it to you. Like everything else in life, unless you're already filthy rich or well-connected, if you want something badly, you can't just wait or ask nicely, you have to take it. All that shit you learned in grade school about sharing and waiting your turn? Fuck that shit. Your turn is now, and that is your job and they need to give you your money.
Never name a number When you're looking for a job, most employers will ask you really early in the process how much money you want. This number gives them several pieces of information, including where you sit in regards to other candidates' salary expectations, whether your current salary fits their idea of experience, and how little they can offer you. However, the number gives you nothing. Never be the first one to mention salary. If they ask for it in a cover letter, say "I consider my salary fully negotiable based on the requirements of the position and the other benefits available." If they ask you to fill out an application and it includes a box in which to delineate your salary history, conveniently forget to add that in. If they ask you outright in the interview to give a number, smile politely and repeat that you consider it negotiable based on the other benefits and how much were they thinking to start. Do not give in. Be inflexible.
Always have a back-up plan Yes, it's ironic given my recent job history that I say this, but do not rely on one job. Have your résumé ready if you have a job, and don't stop applying for jobs (or going to interviews) until a contract is signed and you have filled out your health insurance and emergency contact paperwork. Always be looking. Knowing what else is out there - and how much those jobs are paying - will put you in a better negotiating position. You might not get what you want at first, but at least if you've got more than one ball in the air you're not constantly re-starting
Always know more than your opponent In a negotiation, you preferably want to know more than the other person about what you need salary-wise, your market value, what they can afford to pay you and why they should pay you more. Know these things, or figure them out before the person on the other side of the table does. This is not a conversation between equals or a time for you to wheedle because you want the job, this is a competition and you have to treat it as such.
Be completely willing to walk away In this day and age, few companies are going to be loyal to you, but they will try to indoctrinate you with loyalty to them. Resist. Don't take less that you deserve out of loyalty because 99% of the time in the business world that loyalty is misplaced. If you've been applying for other jobs, going to other interviews, looking at the job market, you know what is out there and what else you can get. If you know going in that you'll walk away if you don't get what you want, it shows in your face. The one salary negotiation (for a raise) that I ever lost was because it was done through a third person and the boss didn't see the whites of my eyes, so he didn't know I'd been interviewing for months and would be gone in 2 if he didn't capitulate. I was. I made 45% more in the new job than they were paying me when I left and 40% more than I'd even been asking to stay.
Make them understand why you are worth it When it comes to asking for a raise, build a case. Don't just ask for more money because you're cool. Take the position description you started with and show how you've excelled at that, built the position into something bigger than asked for, taken on more responsibilities, etc. Write it down. If you can't do that - if you can't even bullshit it - seriously question the wisdom of asking for a significant raise. Go in with facts at your disposal, take your performance evaluations and present it in a short (2 pages or less) memo form. In most cases, your boss (assuming you're persuasive) is going to have to advocate with his or her boss as to why you should get more money and to why s/he'll be screwed if you don't. Make that case before s/he has to.
This all sounds really easy and obvious and, for some people, it probably is. Those people, sadly, are mostly men. Negotiating is about being assertive to the point of being aggressive, it's about confrontation and competition, it's about blatant self-promotion and narcissism run amok and many people aren't good at that. But if you are trying to squeeze blood from a stone, you can't worry about getting your hands dirty.
Median Weekly Earnings Of Full-Time Wage And Salary Workers By Detailed Occupation And Sex [Bureau of Labor Statistics]

Interesting Statistics [Women Don't Ask]