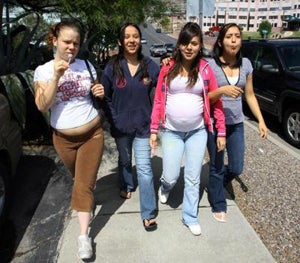 Everyone's got an opinion about the "pregnancy pact" teens from Gloucester, Massachusetts. Time, which originally publicized the teens alleged agreement to get knocked up together, has an opinion piece from Editor-at-Large Nancy Gibbs about how she thinks everyone is being too judgmental about these beleaguered teens. Her evidence? A couple of mean old blogs referring to the pregnant under-16-year-olds as "marauding narcissistic sluts." (Sorry, that made me laugh). Gibbs suggests that these teens are actually doing the mature thing by having these babies because they're "trying to do the right thing in a difficult situation." This conclusion is based on the one pregnant girl from Gloucester who went on Good Morning America to deny the existence of the pact.
Pregnant Gloucester 17-year-old Lindsey Oliver told GMA, "There was a group of girls already pregnant that decided they were going to help each other to finish school and raise their kids together," and to that statement, Gibbs adds, "What if the 'problem' in evidence at Gloucester High has more to do with the rejection of abortion than the acceptance of teen pregnancy?"
Gibbs seems to be ignoring all the evidence presented in previous articles published in her own magazine. Whether or not there was actually a "pregnancy pact," the doctor and nurse at Gloucester High went on record to say the same girls came in for pregnancy tests multiple times and were disappointed when the results came back negative. But, even if these pregnancies had been unintentional, the fact that they're deciding to keep the babies shouldn't be seen as a positive thing — it should be received as a neutral choice. Gibbs points to recent statistics that the abortion rate among teen girls has fallen 55% since the 80s, and heralds that as " a willingness to take responsibility for the consequences," as if having an abortion isn't taking responsibility for consequences.
The problem of judgment in this article shouldn't necessarily be placed on the unwashed masses of the internet, it should be placed on Gibbs. Through her language, she's implying that choosing to have a baby is the more "responsible" choice for a pregnant teen. The entire point of choice is doing what's right for you, and making yourself happy should really be the "positive" thing in any pregnancy.
Give the Gloucester Girls A Break [Time]

Teen Baby Boom in a Mass. High School [ABC News]
Related: Pregnancy Boom At Gloucester High [Time]
Pregnant With Meaning [Guardian]
Earlier: Time Writer Goes On Today To Discuss Gloucester Pregnancy Pact

Pregnancy Pacts: Better Than Suicide Ones, Still Not That Good

Experts Don't Understand Why Fewer American Women Are Getting Abortions