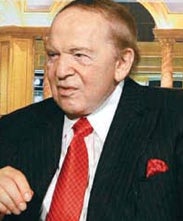 One of the cool things about writing for a "women's" blog that actively rails against the ghettoization of women's voices in the "women's" media is that it gives me the only excuse I can really think of to draw your attention to the work of a woman journalist who has succeeded in resisting said ghettoization, the New Yorker's Connie Bruck, who this week profiled Sheldon Adelson. Adelson, a right-wing Zionist ideologue, is the owner of a slew of casinos in Las Vegas and Macau and plows billions of dollars of the world's blackjack losses into supporting President Bush; smears the reputations of rival casino magnates and Israeli politicians who favor any sort of peace-type solution with Palestine, makes an effort to get American officials to relax any loyalty they might have to the concept of "human rights" - not tough in the case of Tom DeLay - so as to nab a highly-coveted casino license in Macau/cause more Chinese to lose more money, and insinuates himself into every level of Israeli politics and discourse and sues the shit out of anyone who gets in his way.
He is, in other words, a terrible billionaire asshole.
Testimony in the Suen case proposes an answer to a subject of enduring conjecture in Las Vegas: how Las Vegas Sands triumphed over Strip rivals-such as MGM Mirage and, in a joint venture, Park Place Entertainment and Mandalay Bay Resort-that were also seeking a Macao license. At the time, Las Vegas Sands was smaller and financially weaker.

In July, 2001, after arriving in Beijing, Adelson and Weidner saw Olympic banners flying along the streets. They soon learned that the country was waiting to find out whether it would be selected as the site for the 2008 Summer Games. In addition to seeing the Vice-Premier, Adelson and Weidner met with the mayor of Beijing, who asked Adelson for help with a matter pending in the U.S. House of Representatives, which he believed was threatening China's chance to host the Olympics. (In the United States, China was widely perceived as the frontrunner, and it is not clear that Congress's position would have had any impact on its chances.) Adelson said in court that he immediately made calls on his cell phone to Republican friends in Congress-including Tom DeLay, then the majority whip-who had received generous support from Adelson. DeLay told him that there was indeed a resolution pending about China and the Olympics. (Representative Tom Lantos, then the highest-ranking Democrat on the House International Relations Committee, had introduced a resolution opposing China's Olympic bid, saying, "China's abominable human rights record violates the spirit of the games and should disqualify Beijing from consideration.")

Weidner, in his deposition, described the relationship between DeLay-"a very religious guy"-and Adelson. "The link between Sheldon Adelson and right-wing religious Christians is the commonality of a strong Israel," he said. "So it just happens to be Sheldon has taken Tom DeLay to Israel and he's a friend." DeLay told Adelson that he supported the resolution because of his concern about China's record on human rights but added that he would be discussing the legislative agenda shortly. "Sheldon folds his cell phone up and says to the mayor of Beijing, 'I'm going to do my best,' " Weidner said. "About three hours later DeLay calls and he tells Sheldon, 'You're in luck,' " he continued, " 'because we've got a military-spending bill. . . . We're not going to be able to move the bill, so you tell your mayor that he can be assured that this bill will never see the light of day.' So Sheldon goes and he goes to the mayor and he says, 'The bill will never see the light of day, Mr. Mayor. Don't worry about it.' "
Yeah, guess: 1. What bill didn't see the light of day 2. Whose designs on the Olympics were sealed within the next three 3. Whose designs on Asian casino domination would as a result over the next few years in him multiplying his already multibillion dollar net worth some fourteen times…
Anyhow, Sheldon was never interested in politics until he started hanging out with George H. W. Bush's brother William and learned Republicans support cutting taxes for the wealthy and "switched immediately." And he was never interested in Israel until he started going out with this Israeli drug addiction expert named Miriam, which is interesting because he might have just as easily become interested in drug addiction, which apparently took the life of his son Mitchell, but Sheldon didn't really give a shit about Mitchell or any of his other sons, who sued him a few years back charging that he'd tricked them into selling him back their shares in his company for less than what they'd been worth. (Sheldon even sued them to recoup deposition costs!) But anyway, Israel. It's sort of like the family he never disowned, and he thinks Jews need to have "lots and lots of sex" so their population eventually just overwhelms everyone else. Here's Sheldon at a Los Angeles event featuring Steve Emerson, who if you've heard of, you probably thought was pretty much as hardline as it gets. Not so!
After Emerson's presentation, Pooya Dayanim, a Jewish-Iranian democracy activist based in Los Angeles, chatted with Adelson. Recalling their conversation, Dayanim observed that Adelson was dismissive of Reza Pahlevi, the son of the former Shah, who had participated in the Prague conference, because, Adelson said, "he doesn't want to attack Iran." According to Dayanim, Adelson referred to another Iranian dissident at the conference, Amir Abbas Fakhravar, whom he said he would like to support, saying, "I like Fakhravar because he says that, if we attack, the Iranian people will be ecstatic." Dayanim said that when he disputed that assumption Adelson responded, "I really don't care what happens to Iran. I am for Israel."
He sure is! And he spends at a hundred million dollars or so proving it throughout the piece, culminating in a sixtieth birthday party for which one local columnist was not entirely grateful:
"I saw a gambling tycoon from Las Vegas who bought my country's birthday with three million dollars. I thought with sorrow: Is the country worth so very little? Were the champagne, wine and sushi that were given out for free in the lobby-breaking convention for such events-worth the humiliation?"
And with that, I could sort of use a drink. But the whole story's up on the site if you need to get in the mood!