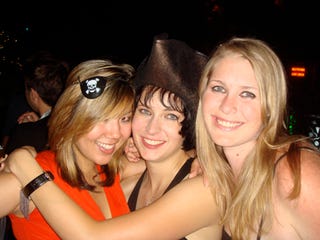 On June 14, our girl Diablo Cody turned the big 3-0. Being the Gemini minx that she is (she shares a star sign with Anna and Dodai, who were born on the 19th and 3rd, respectively), Diablo, the brunette in the center of this photo, couldn't let such an occasion pass without a truly bitchin' party to mark this momentous date. So she secured the Playboy mansion as the site of her debauchery, declared the evening to be pirate-themed, and erected a bouncy castle in her own honor. Though we could not make it to L.A. to attend the party, we sent a Jezebel mole in our place to snap some pics. Courtney Love performed, Lily Allen partied, the New Kids preened and the Grotto was probably peed in. Check out more photographic evidence after the jump!
Even though she appears to be wearing a diaper, Courtney Love is so cool whilst performing that she pulls it off. To quoth the bard Sandler: If peeing your pants is cool, Courtney's Miles Davis!


Joey McIntyre of NKOTB continues to be a font of cuteness in a world gone mad. Does he have some Dorian Grayish deal with the devil?


The infamous Playboy Mansion Grotto! It looks relatively tame here, but those rocks have seen things that are illegal in at least 40 states.


It's not a party without the star of a network tv sitcom present! Here's Chuck's Zachary Levi with an unidentified party-goer.