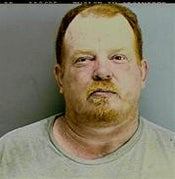 Some tales are so aggressively grotesque they take on a surreal quality, and so it is with the group of men and women who ran the "Swingers Club" in the tiny town of Mineola, Texas, in which the perpetrators drugged children, some as young as five, with "silly pills" (Vicodin) and forced them to perform sex shows in 2004. Oh, and also? The AP reports that three of the children involved are siblings (now ages 12, 10 and 7), and the fourth is their aunt (currently 10 years old). Jury selection in the trial of Patrick "Booger Red" Kelly, 41, an alleged ring leader of the Mineola Swingers Club, begins today, and he faces five years to life in prison for each charge of abuse. Perhaps the most disturbing detail of this already Gothic case is that there were 50 to 100 audience members for each of the sex shows in which these children "performed"; one of the six adults who has already been convicted of charges related to this case is the parent of the siblings.
Two other adults, Jamie Pittman, 36 and his girlfriend Shauntel Mayo, 29, have been convicted and sentenced to life in prison for their roles, according to the Tyler Morning Telegraph. Jurors deliberated for only five minutes before returning guilty verdicts in Pittman and Mayo's trial.
The Swingers Club was exposed in 2005 when one of the girls involved told her foster mother about the shows, saying, "everybody does nasty stuff in there." Permanent custody of the three siblings was recently granted to John and Margie Cantrell, but in a twist worthy of the most melodramatic soap opera, last week John Cantrell was charged with sexually assaulting a minor in California 18 years ago. The Cantrells claim that the accusations are false.
Texas Town Reels From Sex Abuse Of Children [AP via MSNBC]

Jury Selection To Begin Monday For Third Defendant In Mineola Swingers' Club Case [Tyler Morning Telegraph]