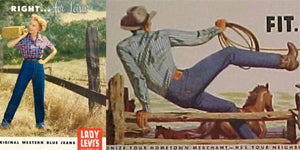 As seen in these vintage ads, Levis have been around for a while, but when marketed for women they were "for leisure." You know, standing around, deciding where to picnic, that type of thing. When marketed to men, they were "for action." Lassoing fillies, bronco-busting and the like. And later still, they came in stripes for men, which one particular woman found extremely interesting. (Click picture for full-sized view.) [Vintage Ads, Vintage Ads]
"A real man doesn't care about sterility."
"These jeans are too awkward to sit in. How about we picnic standing up?"
Seriously, what is she doing? What is she looking at? Can she see something we can't?