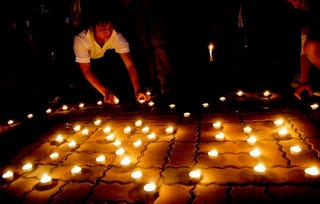 You know how we like to get all outraged when Vogue runs a photo shoot featuring lithe models in depressed impoverished regions of the world? Well, things work differently in China. You can have your entire magazine shut down and your staff sent away to "rectification" camp for offensive shit like that. And by "like that," I mean, "Oh, my god, so much worse, what kind of tainted drugs were they on?":
A newspaper in Chongqing Municipality has been suspended from publishing due to its "unique" coverage of the Sichuan earthquake in which it used bikini-clad women to pose amongst the rubble on the front page, Chongqing Daily reported.
Now, I know that sounds relatively tame but…
The young women were wearing mini-shorts, bikinis and tight T-shirts in the photographs taken among earthquake debris. There was fake blood on their clothes and the photo spread was headlined "Reborn from the Ruins," the report said.
Okay, so to recap: a death toll more than a dozen times that of 9/11, due to a calamity that happened last week…So was this magazine just trying to one-up Alisa Schvartz? Or do some folks just have wayyyy sicker senses of humor than us? I'm going to go with the latter, but only because Greater China is the only place I ever ate at a concentration camp theme restaurant.
Newspaper Suspended, Editor Sacked For "Sexy Quake" Edition [Shanghai Daily]

Completely Unrelated: Sexy Earthquake