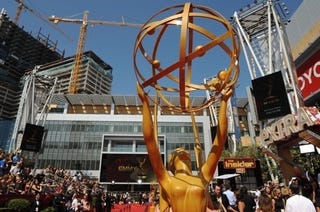 With awards show experts like Tom O'Neil claiming that 30 Rock and Mad Men will clean up at tonight's Emmys, I thought perhaps we should forget about predicting winners and start predicting other things to keep an eye on tonight.
The Death Of Kanyegate It's a bit unavoidable at this point; there will be at least one Kanye West "Imma let you finish" joke tonight. Though it's hard to tell who it will come from, it will come from someone, and everyone will laugh/groan/sigh and perhaps realize it is time for America to finally let the meme go. On the other hand, maybe Kanye will show up to poke fun at himself (doubtful) and the meme will go on, and on, and on, until someone interrupts the interrupting once and for all.



Someone Will Wear An Awesomely Fug Outfit Oh, thank god for the red carpet. Even if the show itself sucks, we'll have something to talk about, thanks to some actor or actress showing up looking like the clearance rack at Marshalls just threw up all over them. Tomorrow, Sadie will post the offenders in the "Bad" section of her wrap-up, and deservedly so.



A Banner Night For Seth MacFarlane Fans/Foes: If MacFarlane wins, his fans will be validated and Family Guy will *shudder* become the first animated program to take the Best Comedy Series award. MacFarlane will sing his way through his speech, make a rape joke, and reference Mr. T. Or he'll lose, and we can all stop hearing about how groundbreaking Family Guy is for another 12 months or so.



Handsome Gents There will be quite a few, thanks to Mad Men and its 16 nominations.



A Solid Effort By Neil Patrick Harris The show might end up being a total bore, but NPH always puts on a good show, and by bringing in the crew from Dr. Horrible and guest announcer John Hodgman, he might be able to turn a fairly predictable evening into something worth the three hour running time. And if nothing else, you can just take a drink every time someone thanks their agent. You'll be passed out by the first commercial break, and maybe you can dream of better things.
Who Will Win Emmys And Why [GoldDerby]