Every year Vogue publishes an epic, huge, "Fall Fashion" September issue. This year, things are not exactly going as planned.
As previously mentioned, for the first time, Elle has overtaken Vogue in ad pages. Today, the NY Post reports that Vogue, "the perennial category leader" may have a hard time producing a 500-page edition this September.
Considered the jewel in Condé Nast's crown, Vogue's September issue is usually the thickest. And heaviest! (Gawker used to weigh it.) According to the Post, "Vogue's biggest September issue ever was in 2007, when it ran an 840-page total issue with 727 ad pages. Last year, it slipped to 607 ad pages in September." This year? All publisher Tom Florio will say is, "We'll have over 400 pages of advertising." Quite a drop.
G/O Media may get a commission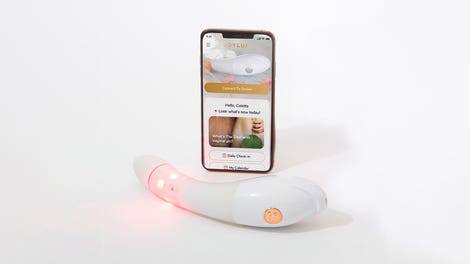 $50 Off
Joylux vFit Gold Device
So why is Vogue having problems? Some speculation:
1. The recession? Though Elle is in the lead — and In Style is doing well — ad pages at those publications are likewise down. Companies aren't spending money like they used to.
2. The zeitgeist? While people are still interested in fashion, it's no longer cool to be all bling-bling and logo-covered. Perhaps attitudes have changed? Accessible clothes — Project Runway, guest designers at H&M — still pique people's interests, but what Vogue calls "aspirational" can often feel like a cruel fantasy.
3. It's stale? Vogue will never die. But maybe it needs resuscitating? A fresh polish on a brand losing luster? Is there a way to restore the enchantment, the magic that Vogue was capable of? Hint: This is not the way.
4. Anna Wintour? The high-profile EIC of Vogue stars in a documentary that may be less than flattering, and recently called fat people in Minnesota little houses. And despite recent covers with Michelle Obama and Beyoncé, there was a time when, for issue after issue, there were no black models on the magazine's pages. Zero. When does your asset become a liability?
5. The Internet? With sites like The Cut, The Sartorialist, Style.com, Fatshionista, StreetPeeper, Refinery29 and so on, it's possible to be interested in fashion and find out about all kinds of runway shows, trends and designers without the narrow point-of-view Vogue offers. In a lightning-fast, interactive way. Like we always say, when in doubt, blame this Web 2.0 thing people are always talking about.
Fashion Feels Frumpy [NY Post]
Earlier: This Recession Will Change Everything (About The Way We Dress)
Vogue's Anna Wintour: High School Dropout & Fat-Shamer
Where Are All The Black Models? Let's Start By Asking Anna Wintour
5 Possible Reasons Why Women's Magazine Sales Are Plummeting
Stylish Doesn't Mean Skinny: Meet The Fatshionistas