Kate Moss is on the cover of British Vogue — again. This is the supermodel's 32nd cover of the magazine since earning her first in 1993, aged just 19. To keep things interesting, Vogue had her pose this time around with a big rope. [Fashionista]
---
Alexa Chung Tweeted about a "strange (sexy) Karl Lagerfeld dream" she had. And then, perhaps in perplexed disgust at her own subconscious, Alexa Chung deleted the Tweet. [Buzzfeed]
---
G/O Media may get a commission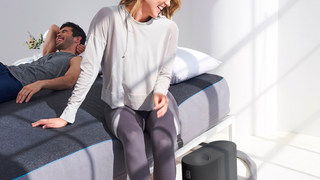 Eight Sleep Pod Cover
British GQ cherry-picked the sexiest images from Tom Ford's latest men's wear lookbook, which the magazine characterizes as "surprisingly risqué." Surprising? Maybe to anyone who's never seen a Tom Ford lookbook before. [GQ UK]
---
Miuccia Prada, who co-headlines this year's Met Costume Institute show alongside her late compatriot Elsa Schiaparalli, says that she had a hard time reconciling her work in the fashion industry with her feminist politics when she was younger. Prada — after completing a Ph.D. in political science, becoming active in Leftist circles, and studying the art of mime — finally in 1977 took over the luxury-goods company that her grandfather had founded in 1913. "I hated it," she says. "I was a feminist in the '60s and can you imagine? The worst I could have done was to be in fashion. It was the most uncomfortable position ... And I had problems for so many years; only recently I stopped." So what changed? "I realized that so many clever people respect fashion so much and through my job ... I have an open door to any kind of field," she says. "It's a way of investigating all the different universes: architecture, art, film. I also realized people respect me because I'm good in my job." Or, as she told the New Yorker in 2004, "In the end, I cannot forget what I do. I make clothes. It's silly. But it's my job." [TDB]

Ever wondered how and why certain heritage brands are primed for revival? Witness Vionnet, Moynat, Lanvin — and, less successfully, Biba, Halston, and Paco Rabanne. It turns out that one entrepreneurial French lawyer, a man named Arnaud de Lummen, has made something of a specialty of quietly acquiring the intellectual property of defunct, but beloved, old fashion houses and packaging them as brands for resale to luxury-goods companies that want to invest in a relaunch. De Lummen goes about acquiring trademarks and logos, as well as gathering more ephemeral items like old catalogs, dresses, bags, advertisements, and archival patterns. He had a hand in the relaunch of Vionnet in 2006, and he sold the 19th Century trunk maker Moynat to Louis Vuitton Moët Hennessy. When LVMH last year opened the first Moynat store in Paris since 1976, it didn't hold a party or a press preview or do a press release about the fancy architect it had hired — in fact, it didn't promote the store at all. Precisely because it wanted people to think that Moynat had been there forever. Most of the appeal of an old brand is that it is old, after all. De Lummen, whose company is registered in Luxembourg, will not reveal all of his holdings, but did say that he is preparing both American couturier Mainbocher, luggage maker Belber, and the shoemaker Herbert Levine for relaunches.

"Sleeping beauties can be hugely attractive to groups with synergies, particularly on the distribution side. The right brand in their channel or platform can get to scale very fast and very successfully," he said. "Brand revival strategies are also very interesting for entrepreneurs who want to play the luxury sector, as the initial investment can be relatively low and they can then drive growth in a controlled manner."

[WWD]

Heidi Klum goes swimming with sharks for fun. "I went diving in the ocean with about 40 sharks swimming around me. I threw fish guts into the water, so they would all come close to the boat and then I jumped in! That's pretty much as wild as it gets after having four children." Pretty wild for a woman whose bedtime is 8 p.m. [DFR]

Naomi Campbell is set to star in a new modeling reality series called The Face. The competition will be international, and Campbell will be one of three mentors assigned to motivate the contestants. That sound you heard was Tyra Banks hitting the "Hold me" button in her safe room. [DH]

And TLC is debuting a new show called Big Brooklyn Style that centers around a Brooklyn plus-size boutique. [Refinery29]

Wal-Mart has agreed to pay $4.8 million in back wages to nearly 5,000 employees nationwide whom the company systematically illegally underpaid. [WWD]

Hermès won a $100 million intellectual-property infringement judgment against 34 Web sites that sold fake versions of its products. Think URLs like hermesoutletstore.com and the like. The company will likely never collect any of that money — all of the counterfeiters are foreign-based and none showed in court — but interestingly enough, the judge also ordered that Google, Yahoo, and Bing stop linking to all the offending sites and that sites including Facebook and Twitter de-index from search any pages containing links to them. [NYPost]

Nail polish magnate Essie Weingarten is, understandably, firmly in the pro camp when it comes to winter pedicures. "If I hear one more woman say, 'Oh, it's the winter, I don't have to get a pedicure,'" she tells Fashion Magazine. "I'm like, 'What are you talking about?' If your nails are not done, you are not dressed, as far as I'm concerned." [Fashion]

Speaking of nail polish, the fact that neon colored polishes are technically illegal to produce in the U.S. has "nothing to do with safety," says a scientist who works for CND. Nail polish colorants are subject to pre-approval by the Food and Drug Administration, but no U.S. company has ever attempted to register a neon shade because "it's too expensive and too much work." Neons currently for sale in the U.S. are either imported, made illegally, or just brightly colored polishes that are not, chemically speaking, true neons. [DM]

After leaving fashion to dedicate himself full-time to visual art in 2004, Helmut Lang is at last preparing for his first New York show. The work? "[M]atted black sheepskins on the walls and black stalagmites sprouting from the floor." [NYTimes]

Alice Temperley is launching a new diffusion line in partnership with the U.K. retailer John Lewis. The name of the line will be Somerset by Alice Temperley, and it will hit stores in September. Accessories will be priced from £29, and clothes will range from from £99 for a day dress to £1,000 for a sheepskin coat. [Telegraph]

Now that blogs and social media give every customer a teeny, tiny megaphone through which to voice complaints, there is some evidence that beauty companies are increasingly receptive to bringing back discontinued products. [NYTimes]

Bankrupt British label Aquascutum may be acquired by a Chinese company called YGM Trading. [WWD]

And now, a moment with Anna Dello Russo. Anna, how do you keep all your clothes so pristine?

"I like to consider myself the guardian of fashion. When I moved house 10 years ago, I had 4,000 pairs of shoes. I had to buy a bigger home to store all the clothes because I need closets, not kitchens, and many are now in my house in Bari [in the southern Puglia region]. I'm super tidy so every item is catalogued, stored in garment bags with tissue paper, perfumed and on hangers that are all the same."