Problem: You're a ladymag editor and you really, really want Kate Middleton for a cover. But the Duchess of Cambridge hasn't been returning your calls. Solution: Photoshop? South African Marie Claire thinks so. The magazine calls its uncanny-looking, technologically aided new cover a "fan art tribute" to the newest member of the British royal family. "Kate Middleton is, without a doubt, the world's new style icon," explains editor Aspasia Karras. Shame you couldn't actually get her for a cover, then. Previously in Kate Middleton Photochops, British Tatler heavily retouched a news photo of Middleton (resulting in a cover that looked weirdly like one of those Jesus plates your grandma puts on the mantel), British Grazia whittled her waist (then angrily denied Photoshopping her, then admitted and fauxpologized for it), Newsweek had her walking alongside an undead Princess Di, and The New Republic gave her a nasty set of teeth. [Marie Claire SA]
---
Here's a pretty mesmerizing Chanel lipstick add. [YouTube
---
Doutzen Kroes was not happy about losing a leg in the pages of Vogue China in that Photoshop hack-job. "I was like, 'Oh my God,'" said the supermodel. "I think Photoshopping is OK until something like that happens. You don't want to lose one of your limbs." Erin Heatherton, for her part, regularly loses her freckles in digital post-production: "I feel like it looks like someone else." Of Photoshop in general, Heatherton says, "I guess it's not fair. It's a bittersweet story. You look better, but it's a lie."
[P6]
---
Kate Moss flips a coin in this 24-second "trailer" for the new George Michael music video in which she stars. [YouTube]
G/O Media may get a commission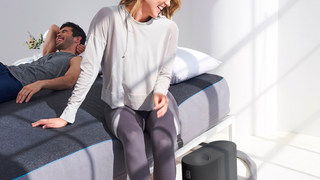 Eight Sleep Pod Cover
---
Discount chain Daffy's is going the way of its former fellows Filene's Basement and Syms: out of business. The company has hired a liquidator, and its 19 stores will close by October. Daffy's has reportedly struggled to pay its invoices since May, and was unable to renegotiate the terms of its credit. The chain is not filing for bankruptcy, which might have given a bankruptcy court control over the disposal of its real-estate assets. [WWD]

Following intense controversy over the fact that Ralph Lauren's U.S. Olympic uniforms were made in China, the company has announced that next time around, it will manufacture the uniforms domestically. Meanwhile, the backlash to the backlash has begun, and it's being led by the rag trade establishment (which naturally includes many people who have been greatly enriched by outsourcing). Women's Wear Daily executive editor Bridget Foley calls the Congressional outrage shared by Harry Reid, John Boehner, Nancy Pelosi, and others, "political grandstanding panders to the most base and jingoistic of populist sentiments." She finds the attention given to the uniforms' origins "offensive" because it

"ignores the fact that Ralph Lauren the man is someone who declares his patriotism regularly, without embarrassment, and puts his money where his sentiments are — not just when the Olympics roll around. How many millions did Lauren plunk down a few years ago to restore the tattered Old Glory?"

Thirteen million dollars, donated in 1998, is the reported figure. Meanwhile, Bud Konheim of Nicole Miller has a simple message for lawmakers:

"Wake up. Everything is made in China. This is not new and it's not unpatriotic. But manufacturing in China allows everyone in the world to buy these things versus making them here, which would require higher pricing. Eighty percent of our collection is made in New York City and nobody cares. For us, it doesn't move one single thing but we still do it."

The head of the American Apparel & Footwear Association points out, "The thing that amazes me is that these are members of Congress condemning imports at the same time they support free-trade agreements." [WWD, WWD]

"Sources" at Chanel deny there's any conflict between the house and actress Blake Lively, who was the face of one its handbags last year (at the time, her selection was rumored to be unpopular within the company) — but just became a face of a Gucci perfume. Lively was effusive when she landed the contract, telling the press that Chanel handbags were made of "dreams" But she skipped last month's Chanel couture show and then wore a Gucci dress to the New York premiere of her new movie, Savages. "Blake is still an ambassador to Chanel and regularly keeps in touch with designer Karl Lagerfeld," says a "source," who adds that she still wears Chanel "whenever she can." [P6]

Michelle Obama praised the winners of this year's National Design Awards at a White House ceremony. The First Lady called the honorees visionaries who are "pushing the boundaries, creating and revealing beauty where we least expect it and helping us all lead healthier, more sustainable lives." Thom Browne, who won the fashion award, said, "I did not go to design school. I left school and didn't know what I wanted to do...So it's important to tell kids to stay true to themselves." Of Michelle Obama, he said, "It is so nice that she sees her role and importance and actually helps American designers, especially young designers. She is so conscious about using where she is in a really good way, in a very helpful way, by the clothing she wears and supporting younger and newer designers." [WWD]

Macy's has won a preliminary injunction against Martha Stewart Living. The two companies are embroiled in a breach-of-contract lawsuit and countersuit over Stewart's decision to switch her line of homewares from Macy's to J.C. Penney. The judge ruled in favor of Macy's in part because, he said, the 2006 exclusive deal with the retailer represented a risk. "Macy's took on the risk with MSLO after Martha Stewart left prison," he wrote. Martha Stewart maintains that the conclusion of her Macy's contract means she can begin selling at J.C. Penney in 2013. Macy's says the contract has an automatic renewal that runs through 2018. [Reuters]

James Ferragamo, director of women's leather goods at the newly public footwear company Salvatore Ferragamo (and the grandson of the namesake and founder), says he doesn't want his own children to work for the family business. "Maybe they will be shareholders and will be able to contribute without having specific roles in the company," he says. [FN]

Rihanna announced a new clothing collection with the U.K. fast fashion chain River Island. "I find London really inspiring and River Island loves to have fun with clothes. I'm looking forward to working with them and creating something really special," said the singer in a statement. This is in addition to her Emporio Armani collections. [Fashionista]

Fashion Group International will honor Carolina Herrera at its annual gala this fall. [WWD]

H&M's same-store sales, a key measure of retail health, rose by 3% year-on-year during the month of June. Overall sales grew by 13%. [WWD]

And now, a moment with photographer (and former model) Ellen von Unwerth. Ellen, you're known for your sexy shots of (mostly) blonde bombshells. How do you feel about that reputation?

"I don't necessarily think of my work as erotic. People say that, but I just like to shoot girls having fun, girls who want to be beautiful and sexy. Sometimes if I'm shooting for myself, I can push it a bit more, have a bit more lingerie and naughtiness, but for a fashion shoot I will focus more on the clothes. Essentially though, it's still the same girl I'm shooting. I consider myself a feminist; I was always a strong woman, always standing up for womens' rights. I like women who look like they have their life under control. But people do over do it and become so serious, it doesn't mean you can't still have fun."