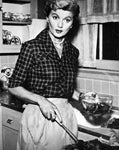 In honor of the book deal snagged by our own Jessica Grose (along with Doree Shafrir) for their blog, Postcards From Yo Momma, we present to you: An e-mail from a mom. (Click the pic to see an actual e-mail!) [Radar]






To: dodai@jezebel.com
Date: Thu, May 1, 2008 at 1:42 PM
Subject: FWD: Mom Deserves LOUBOUTIN, MANOLO, LANVIN!
I cannot believe this ad. I do not need anymore shoes.
Mom