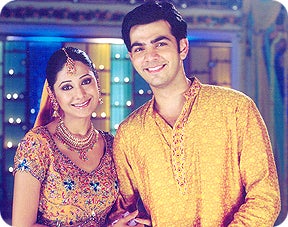 In Afghanistan, up until very recently, there was a Taliban ban on television. But since 2001, more than a dozen private TV stations have popped up in the nation, reports Yahoo News. And the popular programming? Indian soap operas. Conservatives object to the soaps, since they show "immodestly" dressed women, men and women together, and the worship of Hindu idols. Some stations blur areas of bare flesh (?!?) and cut scenes, but that hasn't appeased critics (and probably makes the storyline so much harder to follow). President Hamid Karzai is trying to keep both sides happy: "There will never be interference with media freedom but media freedom should be compatible with the culture of the Afghan people," he says. But during Friday prayers at his mosque, Enayatullah Balegh, an influential cleric and university teacher said: "We are 6,000 people in this mosque, our intention.... is to go and blow up all the TV antennas if they do not stop it."
The hot Indian soap in Afghanistan right now is Kyunki Saas Bhi Kabhi Bahu Thi, which translates to: "Because a Mother-In-Law Was Once A Daughter-In-Law Too." Some casual poking around reveals that the program is about family. Secrets, love, patience, honor, struggles. Like any soap! The trials and triumphs of the human spirit, no doubt extravagantly acted with cheesy, dramatic dialogue and theatrical music. Entertaining, yes, but more important: An escape. Because the people on TV almost always have more problems than you do, even if you live in Afghanistan.
A reporter asked mother-of-six Dell Jan about the Indian soaps. "I like [main character] Tulsi a lot, my children like her a lot," she said. Tulsi's storyline involves eloping with a man from a family much wealthier than hers, which incurs the wrath of her new in-laws. Tulsi fights injustice and has showdowns with her mother in law and sisters-in law. Dell Jan explains: "When the serial starts on TV we stop all work, even eating, and watch it. We love it, it's entertainment for the children." And maybe a pleasant respite from an environment where zealots want to bomb TV antennas? Plus: Imagine a nation of women suddenly cut off from "their stories."
Indian Soap Operas Stir Outrage In Afghanistan [Yahoo News]
Related: Kyunki Saas Bhi Kabhi Bahu Thi [StarPlus]