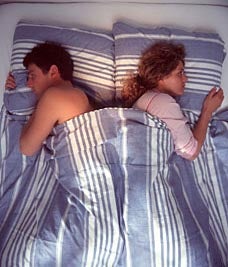 In Sunday's Times of London, there was a feature on Britain's Marriage Guidance Council (MGC), now known as "Relate." The nonprofit MGC was founded in 1938 in order to help mend Britain's ailing marriages. The Times publishes some of MGC's case files from the '40s, and one caught my eye in particular. It is case No. 67, which tells the story of a 26-year-old artist and his wife. The wife has an illegitimate child who was fathered by a border — a naval officer — whom the family lodged. According to the caseworker, "The husband does not in the least resent what has happened, likes the other man and is very attached to his wife." The husband is not resentful, the caseworker reasons, because the husband suffers from an unspecified "sexual perversion" that stopped him from doing it with his wife.
The articles goes on to discuss the kinds of problems that couples have faced in the past 70 years, according to the MGC. The same thread unifies all the unhappy couples: they're not having sex. Whether the lack of sex is the root of the unhappiness or a result of other problems, in the '50s as well as the aughts, no fucking = no fun.
In the past decade or so, according to MGC therapists, the biggest problem has been with the sexual confidence of British men. Peter Bell, MGC's head of practice, tells the Times, "In the last 10 years, the number of men who say they have 'gone off' sex has risen dramatically. Men used to come to us with impotence, now known as erectile insufficiency, but Viagra has sorted some of that problem. What we have is a lot of men who, as women did in the 1950s, say, 'I can have sex but I don't want to. It's not rewarding.' I think that's because women are more aware of what they want sexually and are prepared to ask for it. Male confidence, as the gender who knew how to have sex - always an illusion - has been blown."
I tend to agree with Reverend Herbert Gray, one of the founders of MGC, who said, way back in the 40s, that sexual passion was "'the driving force in life' in a partnership of 'equals.'" Could you tolerate a marriage without that passion like the cuckolded artist and his wife?
"Marriage Problems Through The Years [Times of London]