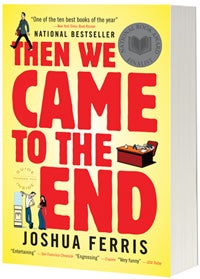 Read the bestselling first novel critics are calling "One of the best books of the year" (New York Times Book Review, Time, Boston Globe). Then We Came to the End by Joshua Ferris. Finally in paperback. $13.99/$15.50
CHECK OUT AN EXCERPT AND ENTER TO WIN A COPY OF THE BOOK.
Send a note to contests@gawker.com with "Then We Came to the End" in the title and enter to win a copy of the book. The usual rules apply.