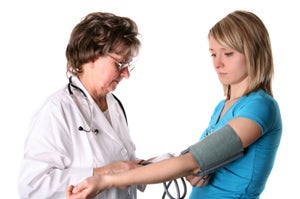 Hating your husband can cause your blood pressure to skyrocket, according to a new study from Brigham Young University's psychology department. Researchers had 204 married folks and 99 single people wear portable monitors that tracked the subjects' blood pressure at 72 different points throughout the day. They also had the marrieds rate their level of "marital satisfaction" in a survey. CBS News reports that the people with the best blood pressure were those who are happily married. Single people had the next best blood pressure, while the miserable marrieds had by far the worst blood pressure of all. (Wonder how many of the subjects were Mormon?)
Having a large social network is also advantageous for a single person's health, but a contented single still does not have the blood pressure of a happily married person, the study showed.
You know what does elevate general health regardless of marital status? Sharing good news, says Science Daily. So don't be bashful about shouting the news of your promotion or that fancy new vibrator you discovered from the rooftop... or at least the bed-top.
Happy Marriage, Better Blood Pressure [CBS News]
Happily Marrieds Have Lower Blood Pressure Than Social Singles [Science Daily]