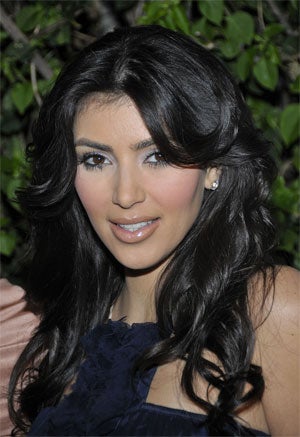 Thank God: Keeping up with the Kardashians is back for its second season on E! Because Lord have we learned to love the spawn of the late celebrity lawyer Robert Kardashian and his ex-wife, (Mrs. Bruce) Kris Jenner, Kim (sex tape), Khloe (drinking problem), and Kourtney (douchey boyfriend, problem remembering to take birth control pills). Last night the family attended a red carpet shindig in celebration of their success, and really, if there's anything we love more than keeping up with this krazy family, it's critiquing it. The Good, the Bad, and the Ugly of the Keeping up with the Kardashians season 2 premiere party, after the jump.
The Good:
This Caroline D'Amour chick seems to be the only person even moderately tastefully dressed here.
Kim's face scares me, but the dress is actually nice.


The Bad:

Clad in her too-bright muumuu, Brittney Gastineau is forced to confront her own less-than-bright reality TV career.
Leaping leather blazers, Batman!
I like the bangs on Khloe Kardashian, I do, but I think the Band-Aid dress is just too much.
Bruce and Kris Jenner are dressed pretty nicely but that still isn't enough to overcome the copious amounts of really bad work they've had done.


The Ugly:

My heart breaks that my favorite Kardashian, Kourtney, is dressed badly.
And yet Melody Thornton's outfit? Worse.
[Images via Getty.]