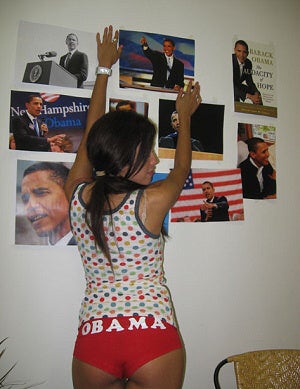 Talking about the election has become a fun sort of foreplay for spring breaking college students in primary states! A story in today's Wall Street Journal follows an Obama volunteer and Virginia jazz studies major on his Spring Break "springternship" to Philadelphia. (The Obama campaign is the only one with a formal "Springtern" program.) (Side note: Jazz studies...Hopeful? Or audacious?) Anyway, Tyler comes on a Greyhound bus with one dollar (um, one dollar: audacious? or just stupid?) in his pocket. He skipped a trip to Cancun! All to...hit the St. Patrick's Day Parades!
It's noon Sunday at an early St. Patrick's Day Parade and roving packs of college kids on spring break are already drunk. Williams approaches a woman swigging from a beer-filled squirt bottle and tells her he's supporting Sen. Barack Obama. "What if I decide John McCain is the hottest guy ever?" says the woman, wearing strands of green Mardi Gras beads.
Mr. Williams fires back: "First of all, I'd think that's really gross." After a minute of flirtatious back-and-forth, the woman tucks her bottle under one arm and registers as a Democrat.
Okay, now, I know she was kidding, but, I forgot to mention to you that poor Meghan McCain, the just-out-of-college daughter of John McCain, was recently the target of suggestions she should get liposuction.
Of course I expected more than my fair share when I decided to put myself out there and write a blog on the campaign; however, I've been surprised by critical comments regarding my weight and body shape. It recently reached a ridiculous level when someone handed me a business card for a plastic surgeon and suggested I needed liposuction. I am proud of my curves and have always loved my fuller figure, as should every woman who is not a size "0". I want to be a positive role model for my little sister and all of the other young women who read my blog and help perpetuate a more positive image for women, regardless of their body size.
Aaaaagh, the patriarchy rears its ugly head and ruins everything ONCE AGAIN. But seriously, Meghan, you're not fat. Come to Philadelphia this weekend! You will feel soooo pretty I promise.
Party Animals [WSJ]