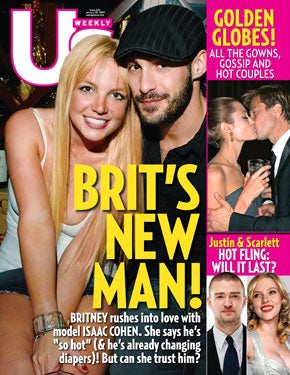 What sells magazines? There's a new issue of the MIN media industry newsletter out, and the only sure answer is "Not Britney Spears And Isaac Cohen," a pair responsible for the worst-selling issues of both Us Weekly and OK! (Who the fuck is Isaac Cohen? After the jump!) But everything else was confusing. Do we love bad news? Because rumors that Angie and Brad were on the rocks gave both InTouch and its sister publication Life & Style its bestselling covers. But the equally tragic demise of Katie and Tom gave Life & Style its worst-selling cover. (InTouch's worst cover was about the also-sad Virginia Tech massacre.) But what of the Good Old Days? Rolling Stone's best-selling cover was all about 1967, but Newsweek's worst-selling cover was all about 1968.
Perhaps the most depressing news came from the magazines read by supposedly smart people. The worst-selling issues of BusinessWeek, the Economist, Fortune, Forbes and the Canadian L'actualite concerned, respectively, "How Business Trounced the Trial Lawyers," George W. Bush's destructive obsession with Palestinian statecraft, the revival of the nuclear power industry in America, "Will You Get Cancer?" and refugees from North Korea — all topics I'd like to know more about!
The bestselling covers for those titles are almost too lame to go into, but: "Where to Invest", "International Investing", "100 Best Companies To Work For" and "Being French Canadian In North America" gives an idea.
I'd be depressed for myself, since this would seem to suggest I have absolutely no clue what it takes to bait you all, but I already knew that thanks to this helpful pageview counter thing, and anyway, having worked for magazines I know for a fact everyone who worked on the above packages totally fucking loathed every minute of it. Meanwhile, North Korean refugees are always interesting. Is it possible editors and writers just share no interests with their readers?
Anyway, Isaac Cohen. I know, you don't give a shit, but I'm telling you because it's good for you: he ...seems to have appeared in a Payless commercial and may have been using Britney to "further his career." Nice try!