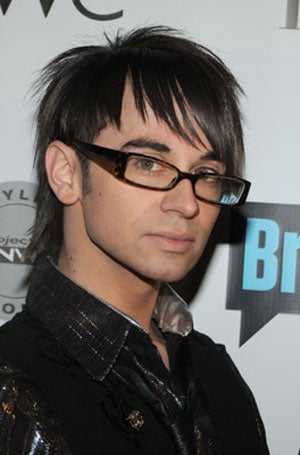 Dear Christian Siriano: We're sorry (okay, I'm sorry) for making disparaging comments about your ego and your hairstyle during the beginning of the most recent Project Runway. We (okay, I) now understand the error of our ways. Because truth be told, you seem like a totally nice guy; the kinda guy we would probably be friends with. And if the interview you gave with The Advocate, is any indication, you are one earnest, humble, hard-working, fierce tranny mess.
I was actually pretty surprised I won. I wanted it so badly, but I needed it more than I wanted it. I'm just getting started....I'm not looking to make hundreds of thousands of dollars. I want to brand myself as well, but I want my clothes to be high fashion, avant-garde. It's easier to take inspiration from something that's creative than to build on something that's not. I don't want to do QVC.
Fortunately for Siriano, he — unlike Project Runway alums Chloe Dao, Jay McCarroll, Emmett McCarthy, and Laura Bennett — won't have to: Barneys New York, Jeffrey's, and Saks Fifth Avenue have all already bought pieces of his. So, yeah — one week after winning and Siriano, on talent and personality alone, is already the most successful person to have come out of the Bravo show. Other reasons to love Christian? He cares about his friends. "The only episode that bothered me was the first part of the finale. They showed all of the other designers with their friends and family, but not me. I had a bunch of friends over, and they cut it out of the episode. I'm not alone out here," says the clearly sensitive soul. Also, he's still friends with model Lisa Nargi. Says Lisa, "He's someone I'm always texting or sending messages to on MySpace. When things calm down for him, we'll definitely see a lot of each other....His clothes are going to be up there with the top designers. They're going to be the clothes that everyone wants to have. He'll be a designer like [John Galliano]."
And how is his life different post-Runway? "I can hardly go out anymore," he says. "Everyone wants to touch me or carry me, which gets really annoying after the first few times. You'd think I was naked the way people look at me....But I get paid to do parties now." Oh and does he say "fierce" anymore? Of course not: His phrase du jour is now "I'm gonna stab you."
Rubbing Elbows, Making Art [The Advocate]