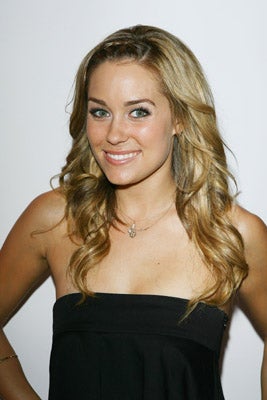 Yesterday, the fashion industry continued to give legitimacy to the lie that is Lauren Conrad's "career" as a "fashion designer" at L.A. Fashion Week. And naturally, all of LC's best frenemies from The Hills turned up to show their "support." Sadly, they dressed as badly as LC designs! (Also, Lisa Rinna was there.) The Good, Bad, and Ugly of the front row and after-party for the Lauren Conrad collection, after the jump.
The Good:
Lauren "Lo" Bosworth looks surprisingly, well, sophisticated in this strapless cocktail dress. (I can't believe I just called Lo sophisticated.)
I'm totally into Audrina Partridge's sporty-chic look: It's so 80's in all the right ways.
The Bad:

I hope LC didn't design this dress herself, because if she did, she sure ain't helping business. The proportions are weird — I can just hear Michael Kors making some nasty comment about not understanding women's bodies.

Whitney's "I'm-Not-Even-Trying" look looks like she needed to try. The length of the dress is no good on her, the leather jacket seems to severe, and the bootie mocassins just make my heart bleed.

While I commend Lisa Rinna for not wearing animal print, I frown on any dress that is so short that it makes for an automatic crotch-shot when you sit down. Also, is she looking thinner than normal?

Stephen Colletti looks like some fresh-out-of-school investment banker. In other words, he looks like a douche.

Looks like the kids wore different clothes to the show itself than to the party. (When will someone tell them that they're not actually celebrities?) I much prefer the dress Whitney wore to the runway show — seems much more her and much more polished. But ugh, is that Lauren Conrad collection Audrina's wearing? And I'm not sure I approve of Lo's homecoming court-esque red taffeta number. Also, see how Brody Jenner is sitting with hit not-ghetto hoody over his head? Mega douche.


The Ugly:

Congratulations, Ashley Jones, for sporting one of the ugliest dresses I have ever seen in my life.
[Images via Bauer-Griffin, FilmMagic]
Earlier: Lauren Conrad's Bella Collection Just As Bad As City Of Angels