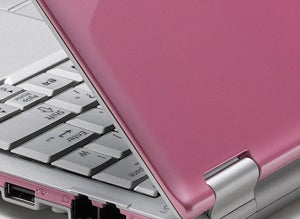 Good news! Jezebel won "Best Group Weblog" and "Best New Weblog" at the Bloggies at SXSW today. Whee! Is it any surprise that a recent study by the Pew Internet Project has found that girls and young women are the most prolific web users? The Times of London reports that "blogging growth among teenagers is almost entirely fuelled by girls", who are described as a new breed of "super-communicators." 70% of American girls between the ages of 15 and 17 have blogs, websites, MySpace and Facebook pages — compared to 57% of boys the same age. In an article a few weeks ago, the New York Times called teenage girls "cyberpioneers." Nicole Dominguez, 13, designs free icons, layouts and "glitters" for Web and MySpace pages. "Most guys don't have patience for this kind of thing," she told the paper. "It's really hard." The image of the computer geek as a male? Dead and buried!


And it's not just the younger generation: Women over 40 are getting their own site (the nuttily-named Wowowow.com — kinda like your wacky aunt, it makes sense while making no sense!) Now for the bad news:
Women may be tech-savvy, but only 27% of computer- and math-related jobs are held by females, according to Utne Reader. And projects like The 40-Year Old Virgin, Superbad and Beauty and the Geek make being a dorky guy seem okay. Writes Lisa Gulya, "Even if they're not making billions of dollars, the geeky guys are visible, lovable, and have a shot at beautiful women. Meanwhile, their celebrated girl-geek counterparts are nowhere to be found."
Meanwhile, Yahoo is launching a "major new content site aimed at women between the ages of 25 and 54", BusinessWeek claims. The new site's editor-in-chief? Brandon Holley, formerly of ElleGirl and Jane. Any guesses on what the new site will be called? And will the logo be pink?
SXSW: The Bloggies...and the Winners Are! [SDN Program News Blog]
The World's 50 Most Powerful Blogs [Guardian]
Girls And Young Women Are Now The Most Prolific Web Users [Times]
Beauty And The Blogs [Utne]
Sorry, Boys, This Is Our Domain [NY Times]
Yahoo's New Appeal To Women [BusinessWeek]