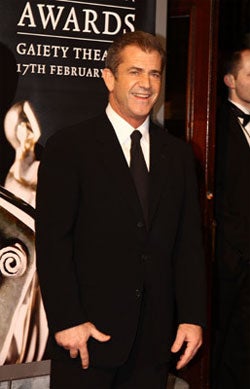 Sunday night Ireland championed its acting chops at the Irish Film & Television Awards in Dublin. Mel Gibson was there — and managed to not say anything anti-semitic or otherwise inflammatory! Also there was Rene Russo, who looks so pretty it hurts. Bo Derek is aging nicely, though her dress may make your eyes hurt, and not because it is pretty. Jonathan Rhys Myers' squeeze Reena Hammer played the pageant look while Katherine and Evanna Lynch played the, um, carnival look? The good, the bad, and the ugly of the Irish Film & Television Awards (including the most awesome old guy ever), after the jump.




The Good:
Rene Russo: Très classique.

Michelle Doherty and Jenny Buckley look pretty in primary colors.

Dear David Kelly: Will you be my friend?

The Bad:
Bo Derek: The blue is cool, but the sleeves are just too much.

Why would a cute girl like Reena Hammer sport a pageant-style frock?

Tara Leniston's dress is shiny, nude, ill-fitting and strangely slutty-looking.

Evanna Lynch has a great ensemble... For the roller rink.

The Ugly:
Katherine Lynch: Dolly clothes aren't made to be worn by real-sized grown-up people?

The giant blossoms and weirdly stiff bust? A loss for Kathryn Thomas.

[All images via FilmMagic.]