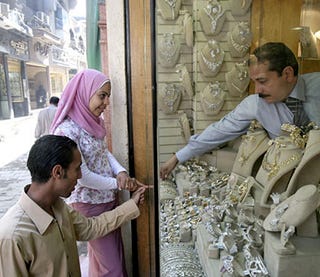 Twentysomething Egyptian men like Ahmed Muhammad Sayyid are turning to hardcore Islam because the job market sucks, upward mobility is a total fraud, taking a blue-collar job would be an embarrassment to the family, and prayer is the only thing that doesn't make guys like him feel like total failures. Not that it really helps that much; Sayyid is still a depressive sometime shut-in who lives with his mom and often skips out on the check at restaurants. Sayyid would like to impose Islamic law upon the people of Egypt namely because he wishes everyone was left with as few options as he has been, and he's pretty average in Egypt, where over the last two decades the population has doubled and the number of mosques has increased twentyfold. "What do you think? Of course I am bored," he tells the New York Times. And to think all that kept him from happy healthy secular life was that he couldn't scrape together enough money to get married.
Like we were looking for another reason to hate on the Wedding Industrial complex!
Anyway I don't say it a lot but: in some ways men also have it rough.